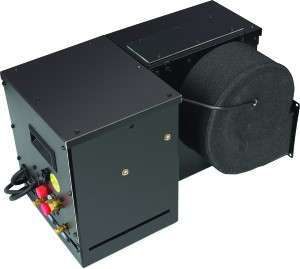 Dometic Group has launched its Blizzard Turbo, which it claims is the industry's coolest and most powerful auxiliary air conditioner for trucks.
Powered by batteries, generator, or shore power, the Blizzard Turbo provides a solid 7,000 BTUs of cooling; in lab tests.
"The Dometic Blizzard Turbo is the coolest, most powerful air conditioner for trucks on the market today, providing professional drivers with a whole new level of comfort when on the road," says Jim Kerrigan, vice president of OEM sales at Dometic. "The Blizzard Turbo is specially designed to meet the durability requirements of the over-the-road truck market, and has a highly favorable BTU to wattage ratio, making it an efficient choice for cooling."
The Blizzard Turbo is a split system that puts the noise of the condenser unit on the outside of the truck while the quieter evaporator unit blows cool air within the cab interior. Improving on previous Blizzard models, the Blizzard Turbo includes a new higher efficiency dual-circuit evaporator coil, improved base pan design for efficient condensate drainage, internal electrical box with easy-start circuitry to minimize starting-current surge, and easy-access high and low pressure service ports on the exterior unit, the company says.
A key new addition to this Blizzard model also is a centrifugal blower, which Dometic says provides high air flow and high static-pressure performance. The centrifugal blower is rotatable for vertical or horizontal discharge, which increases installation options.
Dometic has also improved compressor bracing and vibration dampening, assuring a quiet ride and extended component life. For convenient service anywhere, Dometic says it designed the Blizzard Turbo to operate with R-134A refrigerant, the most commonly available refrigerant.
Dometic has made advances to the condenser as well, which include increased side inlet openings for improved air flow, a 12 VDC fan to allow use of a smaller transformer and an optimized electrical box. This new system will continue to offer Dometic's patent protected use of quick-disconnect refrigerant fittings, the company says.
The Blizzard Turbo will be on display at Booth 14252 the Mid-America Trucking Show in Louisville later this month.