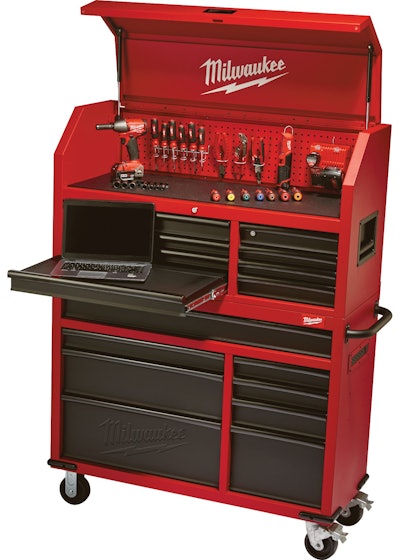 Milwaukee Tool introduces a new 46 in. steel storage chest and cabinet.
Built for extreme productivity, Milwaukee says the new storage solution was designed with the function, durability and organization options that professional users need every day.
"Many storage solutions in this category do not have the durability that professionals expect, and do not provide users with the versatility they desire," says Bobby Shaw, director of product marketing for Milwaukee Tool. "Thoughtfully designed from the ground up, Milwaukee's new storage solution features a reinforced angle iron frame and 5 in. industrial casters for ultimate durability, and is fully loaded with innovative features to maximize productivity."
With 16 drawers that include 100 lb. soft close slides, and two that include a second set of slides to support 200 lbs., the storage unit can support a weight capacity of 1,800 lbs.  Every inch of the space is maximized with features such as a built-in power center for instant access to power and a pull-out work surface for using and storing a laptop or documents, the company says.
For added utility, a power tool organizer keep tools upright, and an independent locking drawer keeps valuables and personal goods secured while working. Under the Pneumatic lid, Milwaukee says users can also store tools on the integrated metal peg wall, or upright directly on the work surface which has 10.5" of clearance from the lid when closed.
Part of a growing line of storage solutions from Milwaukee, the new unit will be available at select retailers in May.