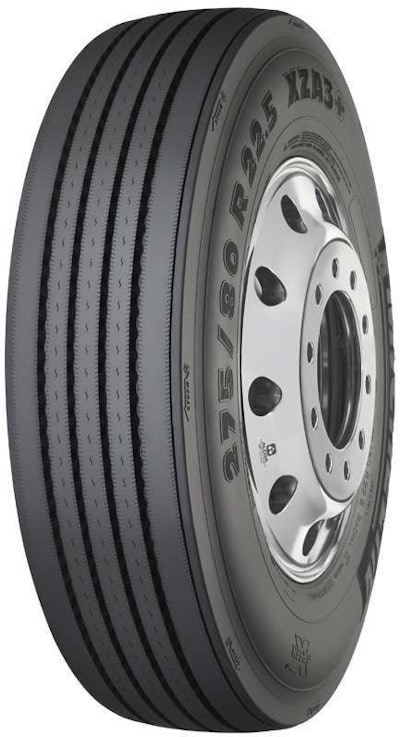 Michelin Americas Truck Tires has launched two new sizes of the popular Michelin XZA3+.
According to Michelin, this ultra-fuel-efficient tire has U.S. Environmental Protection Agency (EPA) SmartWay verification.
The line is being expanded to meet market and original equipment demands, which require steer tires to handle heavier tractor weights, Michelin says. With the two new load range H sizes, customers can carry the additional weight without any change in tire performance.  The tire also delivers excellent casing retreadability that is backed by Michelin's seven-year, 700,000 mile or 3-retread limited warranty, Michelin says.
"The expansion of the Michelin XZA3+ line provides a solution for today's evolving tractor equipment and aids in reducing greenhouse gas emissions — factors that are important to Michelin, original equipment manufacturers and the industry as a whole," says Bianca Hogan, director of marketing for Michelin Americas Truck Tires.  "Along with the ability to handle heavier tractor weights, the XZA3+ will continue to deliver the fuel savings, tread longevity and casing retreadability fleets expect from this proven tire."
Michelin says the two new available sizes, which are reinforced with additional steel belts for added carrying capacity, are 11R24.5 and 275/80R24.5 (load range H).  The XZA3+ line also includes those same sizes in load range G, as well as 11R22.5 and 275/80R22.5 sizes (both available in load range G and H)