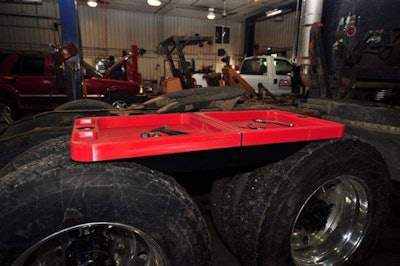 Minimizer has released a new product to help aid vehicle owners who do their own service — the Tandem Work Bench.
According the Minimizer, the new product fits securely on the tandem axle of a Class 8 truck and can hold up to 300 lbs. of parts and tools.
"For years, we've had repair shops ask us to make something like the Tandem Work Bench," says Minimizer CEO Craig Kruckeberg. "They were always having problems with tools falling off the truck, or bolts rolling off the tops of tires. This saves space when you're working on an engine teardown. Now you have room for everything you need."
The Tandem Work Bench features two removable tops along with a deep base, and comes with Minimizer's lifetime guarantee.
"Our new Maintenance Line is taking Minimizer in an exciting new direction. We already have products inside the truck and outside the truck. The Maintenance Line allows you to work on the truck," Kruckeberg says.
The Tandem Work Bench is the second new product released by Minimizer this week, as the company introduced the Slick Plate fifth wheel product on Monday.