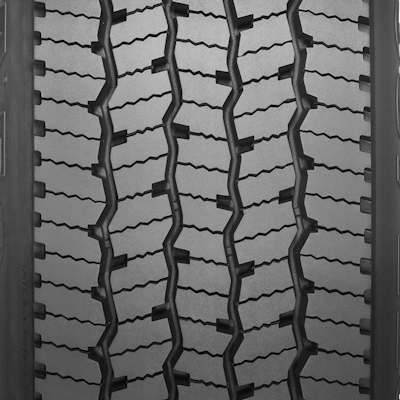 Michelin Americas Truck Tires, a division of Michelin North America, Inc., is launching the Michelin X Multi Energy D Pre-Mold retread for regional and emerging super-regional applications.
Complementing the previously launched Michelin X Multi Energy D drive tire, the SmartWay-verified retread is guaranteed to deliver 25 percent longer tread life than competitive retreads, while providing exceptional fuel efficiency and scrub resistance in regional applications, the company says. The Michelin X Multi Energy D retread also is guaranteed for a second retread when retreaded on a Michelin casing (Michelin on Michelin) by Michelin Retread Technologies (MRT) dealers, Michelin says.
"With shorter routes trending in the trucking industry, customers are looking for tires and retreads that can handle mixed highway and regional use," says Bianca Hogan, U.S. marketing director for Michelin Americas Truck Tires. "The new Michelin X Multi Energy D Pre-Mold retread complements our new tire offering in meeting those needs and performs especially well in 4×2 applications."
Michelin says the new retread features a dual energy compound. The top layer provides exceptional removal mileage. The bottom layer allows the tread to run cool, minimizing internal casing temperatures for low rolling resistance and extended casing life. It also comes with Michelin's inter-locking Matrix Siping, which the company says offers excellent traction and even wear. The retread is available in three tread widths: 220, 230 and 240 – all with 21/32 in. tread depth.