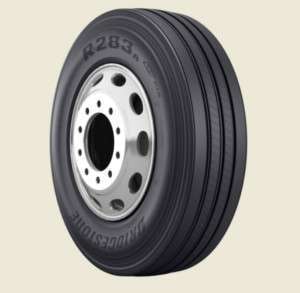 Bridgestone Americas introduces the R283A Ecopia steer tire.
Engineered to deliver best-in-class performance for commercial trucking operations, Bridgestone says the R283A Ecopia tire offers premium performance for long- and regional-haul service. The steer tire features advanced Bridgestone technologies to offer a superior combination of wear life and fuel efficiency. These benefits work together to deliver cost savings and positively impact the bottom line of fleets, Bridgestone says.
"Bridgestone engineered the R283A Ecopia steer tire to deliver the best combination of wear performance and fuel savings," says Matt Loos, director of truck and bus marketing, Bridgestone Commercial. "Sophisticated fleets today measure tire performance based on the total life cycle.  The R283A Ecopia tire is an innovative solution that will help them maximize every mile."
The R283A Ecopia steer tire features several performance enhancements over its predecessor, the R283 Ecopia, designed to deliver 21 percent longer wear life and a three percent better rolling resistance.
Bridgestone says these performance gains are achieved through:
IntelliShape sidewall design utilizes less bead filler volume, reducing tire weight and minimizing rolling resistance for enhanced fuel efficiency. IntelliShape requires fewer renewable resources without compromising casing durability and retreadability.
An innovative tread compound that works with Bridgestone's patented NanoPro-Tech polymer technology, which limits energy loss and contributes to longer wear life, benefiting fleet owners by extending the life of the tire.
A lower cap/base junction delays exposure to the base compound, reducing the occurrence of irregular wear and allowing tires to travel further between retreading and replacement.
Bridgestone says the R283A Ecopia includes other casing features such as Bridgestone's proprietary shoulder design that optimizes the footprint for long, even wear, and Fuel Saver Sidewall to reduce heat generation and energy loss. With this tire, Bridgestone says it is providing efficient solutions for fleet owners focused on their bottom line.
The R283A Ecopia steer tire also is EPA SmartWay Verified and California Air Resources Board (CARB) compliant. The tire is available now in the U.S. and Canada in sizes 295/75R22.5 and 11R24.5 and will be available in 285/75R24.5 and 11R22.5 sizes by April.