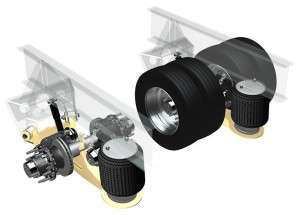 Ridewell introduces its integrated RAR-251 Stub Axle Air Ride Suspension for heavy-haul applications.
According to Ridewell, the suspension contains two beam assemblies that can be integrated with a 32-in. track Ridewell axle configured with WABCO Pan 19 disc brake assemblies. The suspension's pivot design and lateral stiffness help increase capacity for trailer manufacturers wanting a multi-tire configuration that provides a 40,000-lb. capacity per axle line while offering an improved ride quality over mechanical trunnion suspensions.
The system is designed for a minimum 10-ft.-wide trailer up to a 14-ft. or wider trailer installation and accommodates 225-70R 19.5 and 245-70R 19.5 tire sizes at a 12-in. ride height, the company says. Customers can use their own hangers, or Ridewell can provide a hanger designed for their application.
Additional configurations include a 12.25-in. drum brake assembly for 17.5-in. tires and a Ridewell stub axle with a Pan 19 disc brake configuration to accommodate a 22.5-in. wheel.