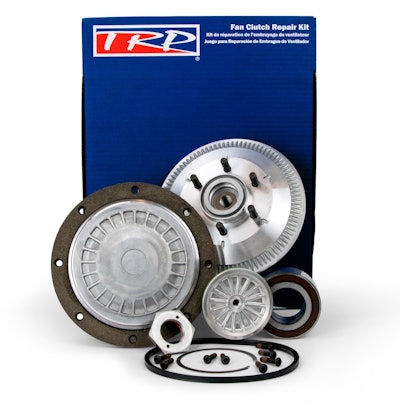 TRP says has added repair kits for some of today's most widely used fan clutches to its all-makes truck parts line.
The new TRP fan clutch repair kits include everything needed to rebuild Horton Drivemaster and DM Advantage on/off fan drives, the first-fit drives found in today's North American heavy-duty trucks, the company says. For older S and HT/S clutches, rebuild and repair options from TRP include both super kits and seal kits.
"Owner/operators and fleet managers want quality replacement parts for fan clutch repair," says Bart Lore, general marketing manager for Paccar Parts. "We're now pleased to offer clutch repair kits with the recognized quality and value of TRP."
Engineered to meet OEM standards, TRP says its kits include features such as double-row angular-contact sheave bearings, improved air cartridge seals, and long-lasting friction liners. With these enhancements, the kits provide greater reliability and reduce maintenance frequency, the company says.
"TRP Fan Clutch Repair Kits further expand the breadth of parts available at TRP dealers, providing our customers with one easy stop for reliable replacement parts with our renowned value," says Mark Santschi, product marketing manager for Paccar Parts.
All TRP fan clutch repair products are field-tested with millions of hours of installed performance, and are backed with a one-year warranty. TRP retailers can quickly cross-reference the appropriate repair kit for each application, the company says.