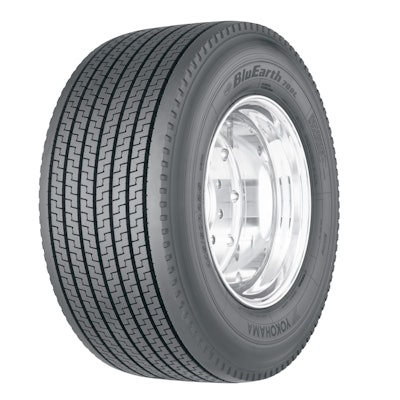 Yokohama Tire Corporation introduces its first-ever BluEarth commercial tire, the BluEarth 709L ultra wide base (UWB) drive tire.
SmartWay-verified and designed for maximum fuel efficiency, the 709L is available now in size 445/50R22.5.
"The BluEarth designation reflects Yokohama's most advanced environmental technologies, and the BluEarth 709L UWB definitely fits the bill," says Andrew Briggs, Yokohama Tire senior director of tire business planning, product planning and sales operations. "It's been engineered to be our most fuel-efficient drive tire yet with exceptional performance. Along with superior tread life and a highly durable casing, the BluEarth 709L UWB will provide extraordinary service for our fleet customers and operators throughout the country."
Yokohama says benefits of the BluEarth 709L UWB, which has a six-year, three retread warranty, include:
Outstanding fuel economy, achieved by Yokohama's advanced compound that is resistant to heat build-up, and an original tread depth of 24/32" for excellent low rolling resistance.
Superior traction, especially in wet or snowy conditions (without sacrificing rolling resistance), derived from a specialized directional tread pattern. Plus, a Z-block design creates multiple biting edges for outstanding grip during acceleration. Distinctive tie-bar connectors increase block rigidity to reduce heel-toe wear, while seven circumferential grooves efficiently evacuate water from beneath the tread to maximize contact with the road.
Extended service life thanks to a zero-degree belt – the key component to Yokohama's highly durable and retreadable casing – which creates a consistently stable footprint for long, even wear. Special funnel-shaped grooves prevent stones and other debris from reaching the bottom of the groove where casing damage can occur.