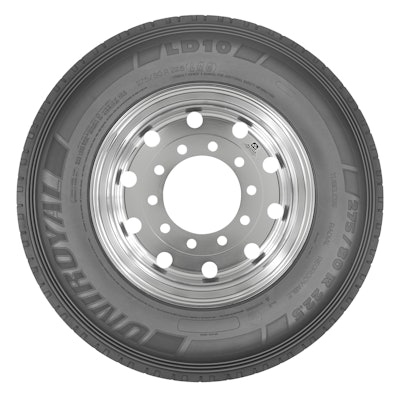 Uniroyal has introduced the LD10, a long-lasting, SmartWay-verified long-haul drive tire. It is available in two sizes, 275/80R22.5 with load range G and 11R22.5 with load range H.
"We continue to expand the Uniroyal portfolio to meet the needs of our owner-operator and fleet customers," says Darlene Shepherd, business segment manager, Uniroyal Commercial Truck Tires. "This addition allows Uniroyal to now offer a total SmartWay-verified long-haul solution — with the LS24 steer tire, LD10 drive tire and LT40 trailer tire. This is what our customers have been asking for."
According to Uniroyal, the LD10 has an enhanced fuel-efficient compound designed for long, even wear. DuraShield construction, at the heart of every Uniroyal tire, provides for durability, dependability and retreadability. Three strategic features — pyramidal steel belts, insulating belt edge strips and a heavy-gauge inner liner — work together to reduce stress, promote endurance and protect the tire's casing, the company says.
The Uniroyal commercial truck tire line provides an affordable option for every commercial truck tire position and application, from long-haul to regional to on/off-road, including dry van, flat bed, construction, pick-up and delivery vocations. Uniroyal is a Michelin North America brand.