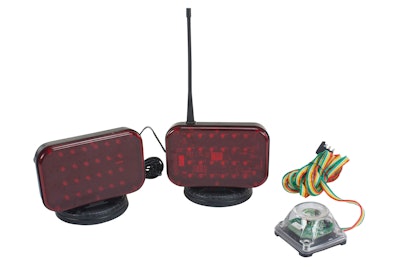 Larson Electronics introduces new LED tow lights with 30 ft. operating range.
According to Larson, the lights are powered by eight 1.5-volt AA batteries and have stop, tail, turn and hazard strobe light capabilities. The units are housed within polycarbonate construction housings and the LEDs are encased within a polycarbonate lens. Larson says each light features 24 high-intensity LEDs to offer superior visibility and brightness during operation. The lights communicate with a transmitter that is terminated in a 4-pin trailer plug, delivering accurate operation of the wireless lights.
The lights can be attached to any metallic surface with a strong gripping force of the magnetic base, Larson says, which also is secured to a pivoting bracket, allowing operators to adjust the lights vertically.
"The portability of this LED tow light lends itself to a wide range of applications including being mounted on trailers," says Rob Bresnahan, CEO of Larson Electronics. "This set of hazard brake lights is 100 percent portable, waterproof and shock resistant."