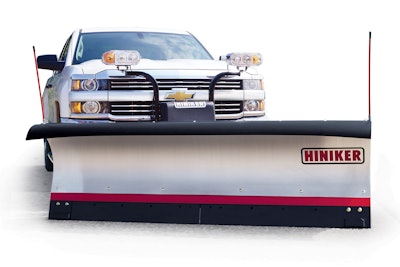 Hiniker says its 7000 Series plows are now available with corrosion-resistant stainless steel moldboards.
According to Hiniker, the 30-in. tall, high-strength torsion-tube moldboard design provides enhanced durability and surface hugging capability in tough winter conditions. The plows also come with chrome alloy wear bars for enhanced cutting edge life and feature the protection of a two-section, torsion-spring controlled trip-edge. The convenient handheld compact joystick controller can also be mounted anywhere in the cab, Hiniker says.
Additionally, all Hiniker 7000 Series plows feature the time-saving, convenient Hiniker Quick-Hitch2 system. Hiniker says the operator simply drives into the plow, pulls and latches the locking lever, plugs in the electrical connectors, then raises the parking stand. Detaching the plow is just as easy, the company says.