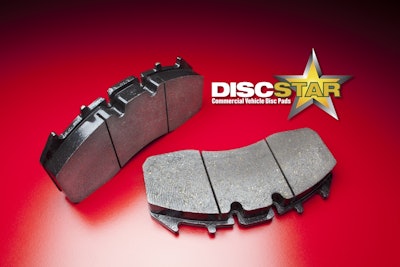 Marathon Brake Systems introduces DiscStar Highway Premium (DSHP) brake pads designed for air disc brake systems used in on-highway truck, tractor steer and drive axles and motor coach applications.
Marathon says DSHP is premium low-metallic friction material rated for 23,000 lbs. and formulated to provide a longer pad and rotor life than OE pads, while delivering a significant noise reduction.
The high-performance commercial vehicle disc pads feature exceptional rotor compatibility and show up to 33 percent less brake rotor wear than leading OE linings, Marathon says. Additionally, DSHP uses a proven, reliable attachment method to ensure a high mechanical bond between the friction material and the steel backing plate for a high resistance to shearing. The rapid heat dissipation characteristic of DiscStar pads is a key feature resulting in its longer pad life and dependable stopping power, the company says.