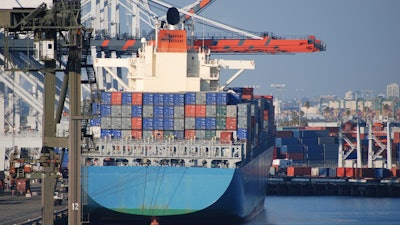 The last two years have brought the trucking industry plenty of hurdles to clear. Among them are: COVID-19, employee shortages and then a container ship blocks the Suez Canal for six days.
"What a crazy time," said FTR CEO and Chairman Eric Starks during Wednesday's Heavy Duty Manufacturers Association (HDMA) Pulse Webinar. Times are so crazy Starks said he had to eat crow because of what he said the last time he was on the Pulse Webinar last February.
"I remember having many discussions last year. Everyone kept saying, 'We are really worried about getting components,'" said Starks. "I said, 'The supply chain always figures itself out. It's amazing how resilient it is. Don't sweat it. This industry will come around.' And that has not happened, obviously. Actually, things have gotten worse and, therefore, the trickle-down effect is really hitting all industries."
The Suez snafu led to bottlenecks at ports around the U.S., which was a focus during the recent Pulse Webinar.
"At the ports of L.A. and Long Beach, as of last week they had 111 container ships waiting there to be unloaded. There were still roughly 60,000 containers just sitting on the deck waiting to get moved," Starks said.
Last month, the Biden Administration came up with the idea of keeping some ports in operation 24 hours a day. Starks said it was clear early on this plan wasn't going to work.
"Staying open 24 hours had nothing to do with some of the problems. One is finding labor [at all levels of the industry], not just at the dock. [Another issue] was at the warehouse facilities. If you don't have anybody there to accept it when you get it to the warehouse facility, moving 24 hours a day [at the docks] doesn't really help. Plus, you're seeing full warehouses. The final thing is there aren't enough [railcar] chassis to move all this freight away from the port. That is becoming a significant problem the industry is trying to deal with," Starks said.
[RELATED: L.A. ports are just a symptom of a much larger supply chain problem]
The issues at West Coast ports began to migrate across the United States to other ports. Starks described the East Coast activity as having a huge acceleration between the growth of imports vs. exports, as others have experienced. Exports have held fairly steady, with a big jump in imports. The explosion in imports creates an imbalance because once the imports arrive at port, they have to be brought inland.
"Most of the time you're going to take it in an international container and you're going to bring it intact inland to its destination. That also brings the chassis away from the port. This can be another choke point," Starks said. Oftentimes those chassis come back to the port empty, which is lost money, he added.
Looking at the Gulf Coast, ports there are seeing an increase in imports and an influx of business trickling down from the West Coast ports.
"As we see congestion on the West Coast, they start to divert traffic around and [decide whether] to bring it into the Gulf Coast or into the East Coast so it can get close to its end destination," Starks said.
"That ripple effect will continue to happen and I think this will continue to happen for the foreseeable future. To clear up this logjam we're seeing at the ports specifically, we are at least six to nine months out. That means you should anticipate, best case scenario would be late first quarter, but likely into the summer months before we start to see that free up," he said.