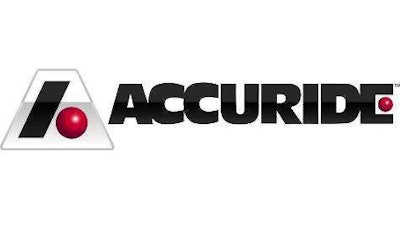 Accuride announces it is realigning its sales and marketing organization as part of the continued streamlining of the company's management and cost structure. As part of the streamlining, Accuride has appointed Drew Hofley and Chad Monroe to new leadership roles in its sales and marketing function, effective immediately.
The realignment creates greater P&L accountability for its Accuride Wheels and Gunite business units and supports continued executive-level engagement with the company's key customers, Accuride says.
Hofley has been promoted to vice president – regional sales, and will report directly to Scott Hazlett, senior vice president – operations, who leads the company's Accuride Wheels and Gunite businesses. In his new capacity, Accuride says Hofley will lead the regional sales team in profitably growing business with regional OEMs, national and regional fleets and distributor aftermarket accounts.
In addition to Hofley, Tony Pape, director – Aftermarket strategy and sales, will report directly to Hazlett. These reporting changes provide Hazlett with greater P&L responsibility for Wheels and Gunite, including the achievement of targeted sales and market share expansion objectives for these businesses, Accuride says.
Monroe has been promoted to vice president – OEM sales, marketing and business development, reporting directly to Rick Dauch, Accuride president and CEO. Accuride says Monroe will work closely with the senior leadership team to expand business with Accuride's primary OEM customers, both in North America and selectively on a global basis.
"The changes we are making today position us to support key customers and drive accountability for profitable sales and market share expansion," says Dauch. "These changes reflect our commitment to realize the full commercial value of recent capital investments that have greatly improved quality, delivery and lead-time performance here at Accuride.
"Competitively repositioned, we are working to ensure that our customers benefit from the Company's industry-leading products and technologies, including the all-new Steel Armor corrosion-fighting coating for steel wheels and the Gunite family of Gold and Silver lightweight brake drums."
As a result of these organizational changes, Accuride says Chuck Byrnes, senior vice president of sales and marketing, is leaving the company.
"The Accuride leadership team would like to express its gratitude to Chuck for his contributions to the company's 'Fix and Grow' strategy over the past two and a half years and wish him the very best in his future career," says Dauch.