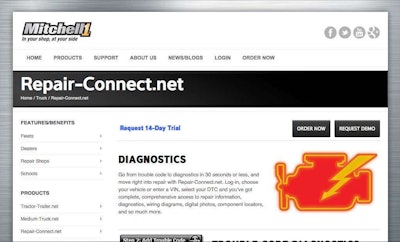 TruckPro, the largest independent truck and trailer service center network across Canada, has chosen Mitchell 1's suite of online truck repair solutions to enhance the ability of their service centers to accurately diagnose and repair Class 4-8 trucks.
Mitchell 1's suite of Web-based products now being utilized by the TruckPro network includes Repair-Connect.net, TruckLabor, Tractor-Trailer.net and Medium-Truck.net. These products help maximize shop productivity by streamlining the diagnostic and repair processes with complete information to fix a problem, delivered in an easy-to-navigate application with 24/7 accessibility.
"We are delighted to partner with TruckPro to provide their heavy vehicle service facilities with a complete solution to help them continue to offer outstanding repairs and service to their customers," says Scott DeGiorgio, general manager of Mitchell 1's commercial vehicle group. "It's an honor to be selected to work with them to help make their highly professional operation even more efficient."
TruckPro has more than 96 service centers across Canada, providing a full complement of truck and trailer repair services and preventative maintenance.