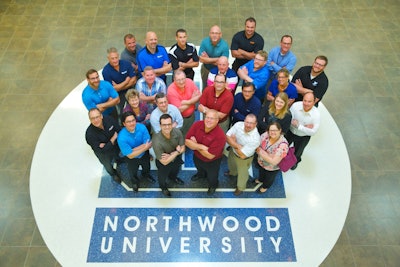 Leadership development and career growth were on the minds of nearly 30 aftermarket industry professionals who participated in the fourth annual University of the Aftermarket Heavy Duty Leadership education conference. The conference ran from July 12-17, 2015, at Northwood University in Midland, Mich.
Heavy Duty Leadership, a week-long leadership development program, specifically targets mid-career professionals in the management track within in the North American commercial vehicle aftermarket, Northwood says. The program's curriculum is designed to foster the development of the next generation of heavy-duty parts distribution, manufacturing, service, association, and fleet management professionals.
Northwood says participants in the 2015 class represented a wide range of heavy-duty aftermarket job functions and geographies.
The 26 participants in this year's class were:
Raul Arredondo – Johnson Controls
Matthew Baker – The Parts House/Orlando Truck Parts
Eric Coffman – Meritor
Adam Diecks – Point Spring & Driveshaft Co.
Salvador Dominguez – MAHLE Aftermarket Mexico
Ron Fleischhacker – HDA Truckpride
Thomas Flicek – Vipar Heavy Duty
Wendi Frederick – Vipar Heavy Duty
Grant Garrett – FleetPride
Dennis Griffin – Federal-Mogul Motorparts
Russ Gross – Horton Inc.
Julie Hammond – Bridgestone Americas
Toby Harris – CVG
Michael Hooks – Horton Inc.
Matthew Jones – Valvoline
Susan Kalish – Auto Care Association
Michael Karwowski – Automotive Supply Associates
Jennifer Kron – Vipar Heavy Duty
Steve Machen – FleetPride Truck & Trailer
Jeffrey Malone – Timken Company
Kenneth Myers – Paccar
Ricky Pate – WAI Global
Keith Peshke – Valvoline
David Roper – TruckPro
Mike Van Lente – FleetPride
Michael Zakutny – TruckPro
Accuride CEO Rick Dauch kicked off the event with a keynote address on Sunday, July 11. During his presentation, Dauch discussed his views on leadership in a changing, competitive commercial vehicle aftermarket and included anecdotes about real-world leadership challenges.
During the rest of the week, participants took part in multiple leadership and industry-focused sessions led by faculty drawn from Northwood University's DeVos Graduate School of Management and leaders in the heavy-duty aftermarket industry.
"This program is truly a collaborative effort between the University and the commercial vehicle aftermarket," says University of the Aftermarket Director Brian Cruickshank. "Participants gained leadership insight and perspective not only from our own faculty, but also from experienced leaders in the commercial vehicle aftermarket. We are thrilled that the commercial vehicle aftermarket continues to support this annual program."
Northwood says graduates earned 3.5 continuing education units that can be applied toward their Automotive Aftermarket Professional (AAP) or Master Automotive Aftermarket Professional (MAAP) designations.
The next Heavy Duty Leadership program is scheduled for July 10-15, 2016. To learn more about Heavy Duty Leadership and other University of the Aftermarket programs, call (800) 551-2882 or visit www.universityoftheaftermarket.com.