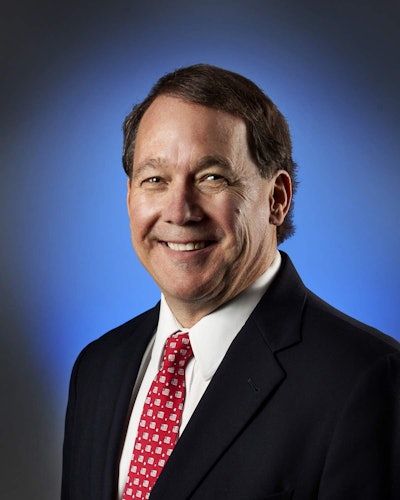 William "Michael" Betts IV, chairman and CEO of Betts Company, was installed as the new president of the Spring Manufacturers Institute (SMI) Tuesday during the association's recent 2016 annual meeting in Dana Point, California.
Betts will serve a two-year term for the trade association that represents the North American spring manufacturing industry.
"I am honored to serve as SMI president and I accept this role with a deep sense of appreciation and gratitude to my father, and to all SMI members, present and past," says Betts. "On behalf of our board members and leadership at SMI, I would like to thank Hap Porter for his service as SMI president these past two years. Hap, and Steve Moreland before him, did a remarkable job and were instrumental in SMI's growth."
During his term as president, Betts says he would like to build upon the success of the inaugural SMI Metal Engineering eXpo held last year in Charlotte. The second eXpo will be held from Oct. 3-5, 2017, at the Connecticut Convention Center in Hartford, Conn., and will include the popular technical symposia.
"Our commitment is to build upon the foundation of the first eXpo and take future events around the country to work in alignment with all of our industry associations and partners," says Betts. "Our ultimate success will be to allow spring companies from all across America to benefit from having the eXpo in their region. We want all spring companies to see the value of being an SMI member."
Betts served as president of Betts Company from 1995 to 2015, having previously held numerous positions in sales, marketing, innovation and leadership with the company for a combined total of more than 38 years. In his role as chairman and CEO, he continues to provide guidance and support to Betts Company's leadership team.
Betts graduated from the University of the Pacific in 1978 with a degree in business administration. In addition to being a member of the SMI executive committee, he's a board member of the Fresno Business Council and a member of Central California Vistage. He represents Betts Company as a member of the National Association of Manufacturers, Spring Research Institute, SMI, Service Specialists Association, Technology and Maintenance Council, Commercial Vehicle Service Network, Heavy Duty Manufacturers Association and HDA Truck Pride.
Other newly executed SMI executive committee members include, Steve Kemp, Lee Spring, vice president; Bert Goering, Precision Coil Spring, secretary/treasurer; Hap Porter, SEI MetalTek, past president; and Dan Sceli, Peterson Spring, incoming at-large.
Based in the Chicago area, the Spring Manufacturers Institute (SMI) started in 1933 and embraces its mission statement of: "Serving, supporting and educating North American precision spring manufacturers in their pursuit of competitiveness in world markets."