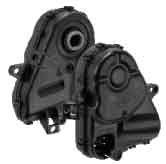 Red Dot Introduces Sealed, Electronically Controlled Actuator
Red Dot Corp. has introduced a sealed, microprocessor-controlled rotary actuator for 12- and 24-volt mobile HVAC applications.
Designed for commercial trucks, military vehicles and off-highway equipment used in construction, agriculture and other demanding environments, Red Dot's actuator is designed for managing air-distribution doors, water valves and other functions where durability and precise, electronically controlled actuation are required.
Its microprocessor control is designed to maintain a constant torque across the range of operating voltage and automatically reduce torque in a stalled condition.
The actuator is sealed to IP68 standards (+/-)5 psi internal or external pressure) to resist moisture and other contaminants. Also, its dual-voltage capability allows it to be used in 12- or 24-volt applications, providing versatility from a single part number.
Red Dot
Visit tpsdigital.com/info
Western Star Introduces 2nd Reverse Transmission
Western Star Truck Sales, Inc. announced the availability of the new Allison 4700RDS 2nd reverse transmission for the construction segment.
Suitable for mixer and dump applications, 2nd reverse offers a second, "deep reverse" in addition to the standard reverse to provide greater control and engine braking during operation on steep grades. And with a mechanical ratio of 17.12, a vehicle in 2nd reverse will have a slow creep capability with high engine speeds, making uphill and downhill reversing both easier and safer, according to the company.
The 2nd reverse transmission also is said to enable increased maneuverability for trucks operating in confined spaces, resulting in quicker operation cycles and enhanced productivity. And specifically for the mixer application, the 2nd reverse feature allows trucks to creep in reverse while pouring concrete and maintaining adequate barrel speed.
Western Star
Visit tpsdigital.com/info
Elite Brake Adds Anti-Corrosive Protection
Elite Brake Company announces the availability of DiamondCote on all of its remanufactured brake shoes. Elite Brake says it has eliminated the problems associated with rust-jacking.
DiamondCote is a cathodic electrostatic coating process which is said to give 400 percent better rust protection than industry standard remanufactured brake shoe paint. This process involves 12 steps to ensure that the brake shoe is completely clean and free of imperfections, and then uses a procedure which employs the particle-attracting property of electrostatic charges to coat the metal surface.
Elite Brake
Visit tpsdigital.com/info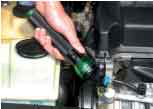 New Leak Detection Flashlight
Tracer Products has unveiled the new Tracerline TP-8690 OPTIMAX 3000, a portable, blue light LED fluorescent leak detection flashlight. With its focused beam, the unit is said to make it easier to find air-conditioning and fluid leaks. Technicains can pinpoint all leaks the first time and avoid comebacks due to undetected leaks, according to the company. And there are no cords that can get snagged on engine parts.
The OPTIMAX 3000 uses super-hi-flux LED technology to deliver 15 times brighter leak detection light than regular LED lamps, the company states. Its power equals that of 150-watt lamps that must be plugged into an AC power source, and it has an inspection range of 20 feet (6.1 m) or more. Powered by a rechargeable NiMH battery, the unit has an LED lifetime of 50,000 hours.
The flashlight also comes with fluorescence-enhancing glasses and an AC battery charger. A DC charger can be purchased as an accessory.
Tracer Products
Visit tpsdigital.com/info
Allison Widens Product Initiative
Allison Transmission Inc. widens its ongoing product optimization initiative with new features for 2011. All Allison Automatic 2011 models are available with new Economy Shift Schedules for greater fuel economy.
For school buses, Allison 1000/2000 Pupil Transport/Shuttle Series models are available with Increased Torque Converter Lockup Availability. Lockup occurs when the torque converter achieves a direct connection between the engine and the transmission. Allison's new Increased Lockup Availability enables the transmission to shift into lockup in 1st range, and stay locked-up through the higher range. Locking the converter earlier is said to build upon the already superior balance of fuel economy and vehicle performance.
Allison 2nd Reverse now is an available option for the Oil Field Series 4700 model. 2nd Reverse offers a second "deep reverse" in addition to the standard reverse. It is said to provide more maneuverability when operating in confined spaces and slow creep capability with high engine speeds.
Variable Modulated Main (VMM) is now featured with all Allison 3000/4000 models. VMM modulates the pressure required in the internal lubrication system to increase transmission efficiency and improve fuel economy.
And, Allison 3000/4000 models now are available with new Low Speed Grade Assist to provide improved performance and reduce heat generation when climbing grades.
Allison Transmission
Visit tpsdigital.com/info

Cole Hersee Introduces Wide Lens LED Rocker Switch
Cole Hersee Company introduces its newly engineered LED Rocker Switch for trucking applications. This low current input membrane switch is compatible with microprocessor-based electrical/electronic systems and is said to offer exceptionally high visibility and durability, no matter the time of day or weather condition.
The switch's wide, wrap-around green and yellow colored lenses are working parts of the actuator, rather than being separate
components inserted into the actuator. According to the company, this significantly increases the chance of seeing the illumination when viewed from an oblique angle, from a distance or in the bright sunlight while decreasing accidental risks of on-site areas.
The switch meets the IP66 standard, the highest level of dust and high-pressure water resistance. To meet this standard, the switch underwent a series of tests in which no ingress of dust or water occurred, making it suitable for essentially all adverse conditions.
This switch will snap into standard panel holes and through custom order pilot lights for 24V switches are available.
Cole Hersee
Visit tpsdigital.com/info