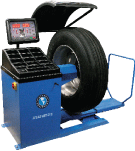 Greg Smith Equipment has added Atlas' WBT-210, a computerized heavy-duty tire and wheel balancer, to its product line.
According to the company, the WBT-210 is for service providers that want a product that can balance a 14 in. steel rim up to and including a 300 lb. heavy-duty tire. The company says the WBT-210 also can balance oversized 32 in. custom wheels and tires.
The WBT-210 also includes an air powered wheel lift and an Atlas universal adapter, which is said to help in balancing a lug-centric wheel system.
The company says the WBT-210 is capable of self-diagnosing problems and displays error codes for technicians working on a vehicle.