Shiny Side Up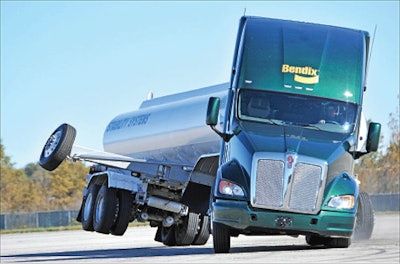 NHTSA looks to mandate electronic stability controls
Every professional driver wants to keep his truck "shiny side up" and between a highway's painted lines.
Standards proposed by the U.S. Department of Transportation's National Highway Traffic Safety Administration (NHTSA) could mandate some equipment to help make that a reality.
Following years of research, regulators are looking to require electronic stability controls (ESC) systems on new tractors and buses with Gross Vehicle Weight Ratings of more than 26,000 lbs.
The technology — which MeritorWABCO and Bendix have been offering since 2005 — uses a series of sensors to monitor a truck's motion, and if needed automatically will apply engine torque, engine brakes and the brakes on specific wheel ends to bring everything under control.
Research used to support the proposal suggests this equipment could prevent up to 56 percent of rollovers per year, and another 14 percent of the crashes linked to lost control.
That translates into annually preventing between 1,807 and 2,329 crashes, eliminating 649 to 858 injuries, and saving between 49 and 60 lives. That is particularly important to truck occupants, as nearly two-thirds of their fatalities occur in rollovers.
As much as $22 million would be saved every year when considering travel delays and property damage alone.
"The Department [Of Transportation] and the National Highway Traffic Safety Administration have long recognized the potential impact of stability control technology in reducing deaths and serious injuries that result from rollover crashes," Transportation Secretary Ray LaHood said when announcing the proposal.
The push to mandate the equipment should hardly be a surprise.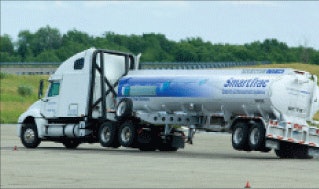 Similar systems are required on cars and light-duty trucks beginning this model year. Several related research projects also have been building the overall case for support.
The University of Michigan Transportation Research Institute and MeritorWABCO have been joining forces in researching the effectiveness of ESC on five-axle tractor-trailers.
The University of Iowa used the National Advanced Driving Simulator to see how well the equipment would work in scenarios that would otherwise cause rollovers and jack-knifes. And the Virginia Tech Transportation Institute has been working with Bendix to measure the real-world safety benefits of roll stability controls (RSC).
"We have been anticipating that this Notice of Proposed Rule Making would come out in favor of electronic stability control, and we also expected it to be in terms of tractors and motor coaches," says Fred Andersky, director of government and industry affairs at Bendix.
The technology focused on tractors when first introduced, and it also was referenced in the Motor Coach Safety Plan that NHTSA unveiled in 2009.
Installations on straight trucks are simply more complicated, he adds.
"There, the OE is really producing the chassis and then it goes out someplace and becomes a dump truck, a cement mixer," Andersky says.
How The Systems Work
Rollovers can be caused by several issues, including sudden lane changes, shifting cargo or cornering at high speeds. Other contributing factors can include broken suspension components and worn tires.
An ESC system operates in many of those situations by reducing engine power and applying brakes. Unlike roll stability controls — which will slow a truck when accelerometers spot too much lateral motion — an ESC system includes extra sensors to monitor yaw (measuring the over-steering or "spinning out" of the tractor) and any loss in directional control (the under-steering or "plowing out" of the tractor).
By comparing actual motion to the angle of the steering wheel, the equipment can determine if the vehicle is out of control, and take action before a driver even realizes something is wrong.
"You don't roll on ice. You slide. And you don't have any opposing forces on the wheel end," says Mark Melletat, director – field operations for MeritorWABCO, offering an example of where ESC can make a difference.
"We need to selectively apply the brakes to influence the direction."
According to NHTSA, the equipment will likely add about $1,160 to the cost of an average tractor, including the ESC components and a related malfunction light. But Andersky suggests the estimates may be too conservative.
"We don't think the difference in price between an RSC and ESC system is as great as they make it out to be," he says.
There is, however, a difference between the cost of the equipment and the retail price. ESC currently is available as standard equipment on selected trucks, or as an option worth as much as $2,500. The RSC upgrades cost $800 to $1,200, says TJ Thomas, director of customer solutions for controls at Bendix.
Even without a mandate, many buyers already are steering toward the equipment. Volvo, Mack and Peterbilt tractors include the Bendix technology as standard fare. Bendix has sold more than 175,000 of its electronic stability program systems, and MeritorWABCO has installed more than 150,000 of its SmarTrac systems.
"The adoption and the take rate have increased significantly over the years," adds Melletat, noting that sales have increased dramatically in the last two years.
The introduction of CSA safety ratings may have played a role, as fleets look to address challenges that lead to poor scores. Fleets that want to introduce adaptive cruise control available in systems like MeritorWABCO's OnGuard or Bendix's Wingman also need to build on a backbone of ESC.
"Fleets continue to reinforce that they get paybacks on these systems," says Thomas.
But there still is room to grow. About 26 percent of new tractors now are equipped with the systems, NHTSA says. That compares to 80 percent of new buses.
Equipment Advances
Details about this equipment may seem familiar to those who were around the trucking industry prior to 2005. MeritorWABCO actually introduced an earlier form of ESC as early as 2001 when the equipment was included as an option on electronic braking systems, (EBS), otherwise known as "brake by wire" technology that has been widely adopted in Europe.
"Back in the early 2000s, the gap between an ABS platform and an EBS platform was rather large," Melletat says.
Electronic stability controls have closed that gap. The latest generation of equipment still may rely on an air supply to power the brakes, but the actions are controlled by signals from electronic solenoids.
One of the most important leaps in the engineering behind these systems came in the form of yaw rate sensors.
While these components were familiar in the aerospace industry, the versions used on a truck had to be compact and affordable. Truck manufacturers also needed to modify their steering columns to accept the sensors to monitor steering angles.
Of course, the regulations are merely proposed. Comments can be submitted until August 21, and a public hearing also will be scheduled in the coming weeks.
If the regulations are passed, it would still be another two years before the equipment is mandated on typical 4×2 and 6×4 tractors, NHTSA says.
New severe-service tractors and other specialty tractors with three or more axles would likely require the equipment within four years of the mandate's approval.
Meanwhile, there still would be a market for optional equipment on vehicles like cement mixers, straight trucks and other air-braked medium-duty vehicles, Andersky says.
Straight trucks simply present a bigger challenge for engineers. The rollover of a tractor-trailer begins at the front of the vehicle, giving systems a few more milliseconds to respond before a trailer begins to tip.
"On a straight truck platform you don't have that," Andersky says. "We need to know what's going on as quickly as possible."
For its part, the American Trucking Associations was quick to support the idea of mandating ESC systems.
"Technology — whether it is ESC, roll stability controls or electronic on-board recorders — can help our industry improve on its already impressive safety record," says Bill Graves, ATA president and CEO.
However, there are limits to the technology. An ESC system works best on traditional highways and side roads, but struggles in off-road situations where trucks face eroded or uneven surfaces.
It wouldn't address vehicles that tip over on a soft shoulder, Melletat says, offering one example. "Even though we really support all the advanced functionality of the system, it's no substitute for safe-driving behaviors."
Trucks still will roll if they head too quickly into a turn, and they will lose control when drivers over-steer on the slickest roads. "Outside of Star Trek," Andersky says, "we're all susceptible to the laws of physics."
One piece of good news for a typical shop is that maintenance techniques on the new equipment will seem quite familiar.
In many ways, the ESC is a natural evolution in ABS, and many maintenance procedures are identical.
"This isn't new technology," Andersky says. "It's been out since 2005. Fleets, OEs, engineers, manufacturers and the government are familiar with it," he adds.
Buyers can expect more improvements to come. Manufacturers continue to work toward self-calibrating ESC systems, which will be important when creating versions that can be adapted to a wider range of vehicles, such as a fire truck, coach or military platform.
The shift to ESC also will make it easier for fleets to adopt collision mitigation systems that automatically react to obstacles around a truck — like a car that suddenly slams on the brakes.
This might lead manufacturers to explore new ways to incorporate the data collected by radar and lane-monitoring cameras.
New generations of ABS controllers also could be on the horizon, adding more memory and computing power, Thomas says. Maybe they'll even be referred to as ESC controllers.
Still, don't expect to see retrofits on older equipment.
"Retrofitting ESC or RSC does not appear to be feasible because of the complexity of integration which involves the calibration of these technologies with the vehicles' engine, braking, local communication and electronic control unit systems," NHTSA concluded in its research.
Rollover stability controls could be retrofitted on trailers, but that would be "extremely costly."
This latest proposal is focusing all of its attention on the road ahead.