Effective Lubrication Procedures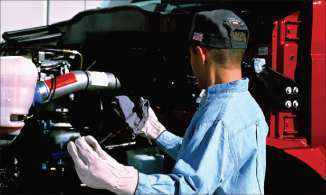 Creating a best practice for lubricating trucks is good for you and your customers
By Lucas Deal, Associate Editor
Lubrication is a cornerstone of all maintenance operations. Medium- and heavy-duty vehicles need constant lubrication to run effectively, and it is the job of repair garages, dealers and fleet maintenance managers to provide that lubrication during maintenance checks.
While the reasons for lubricating heavy-duty trucks are well known, the procedures in which lubrication is provided can vary. And that can be a problem, as improper methods can waste time and lead to mistakes.
By creating a best practice for lubrication for your technicians, you can maximize the amount of lubrication maintenance you can perform — and that's good for you and your customers.
Lubrication is the act of providing lubricant to an area where moving parts come into contact with each other.
The process has many benefits. Lubricants reduce friction between parts, trap and remove contaminants from mechanical operating areas, minimize corrosion and reduce temperatures where friction is occurring.
Engines, transmissions, hydraulic systems and chassis are just a few of the areas on a truck that require lubrication. Lubricants for these areas, and heavy-duty trucks as a whole, include engine oil, transmission fluid, gearbox fluid and grease.
The first step in creating an effective lubrication procedure is to find OEM-recommended oil change intervals for different make and model trucks, and create maintenance schedules for your customers based on those recommendations.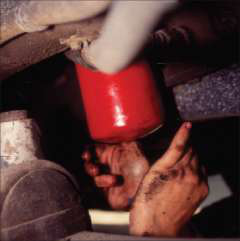 In the case of engine oil, Detroit Diesel and Volvo have recommended maintenance intervals of 35,000 miles, while PACCAR and Navistar list their recommended intervals at 40,000 miles.
As the most important type of lubrication, following manufacturer recommendations for engine oil change intervals is very important, says Dan Arcy, OEM technical manager for Shell Lubricants.
"Not all OEMs use the same oil, and that can have an effect on fuel economy and how far a truck can go before it needs maintenance," he says. "We always recommend that [truck owners] follow the manufacturer's specifications. They are the ones that designed the vehicle."
Once a truck is brought to your service facility, it is time to effectively lubricate the truck to last another 35,000 to 40,000 miles.
When done correctly, lubricating a Class 8 truck can take in 30-60 minutes.
The next step in the process is draining the engine oil. Joshua Frederick, manager for Valvoline C&I engineering and technical service, says it is a good idea to warm the engine oil to normal operating temperatures before starting an oil drain, because the oil will flow smoother at a higher temperature.
While the oil is draining, Ron Middleton, account manager for Middleton & Meads Truck Service Repair, says a technician can start performing a visual inspection of the truck.
Though technically not part of the lubrication procedure, Middleton says performing a Department of Transportation compliant inspection is a way to uncover other small problems on a truck before a minor issue becomes a major repair.
"We have three [preventive maintenance procedures] for lubrication in our shops," he says. "The first one is just the oil and filter and we grease the chassis. Then we just add service from there to the [second and third procedure]. Middleton says it's a good idea to do more than just an oil change while performing a PM because the truck is already in your shop and you can inspect it for additional problems.
Any problems found during that inspection can be repaired on site or a repair can be scheduled for a later date.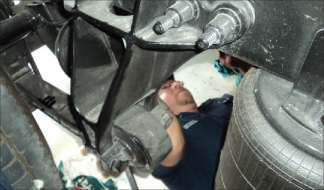 Once the engine oil has been drained, Arcy recommends the technician check the used lubricant for excessive contaminants, water or other issues. All used engine oil will be dirty, Arcy says, but extremely dirty or milky oil can be a sign of a bigger engine problem.
"It's just like any other problem in that if you can catch it early, you can fix it early," he says.
And while a technician's visual inspection can reveal major problems, it cannot reveal everything, which is why Arcy and Frederick recommend service facilities perform oil analysis on all drained oil.
Oil analysis is the process of a collecting a small portion of oil during a drain and sending it to a lab for testing. These tests uncover exactly how much water, coolant, fuel and other contaminants are found in the lubricant after each oil drain.
Oil analysis also allows service providers and truck owners to track how clean or dirty engines are over time, which allows trends to be spotted.
Not all trends are bad, either, and oil analysis can help a service provider understand that.
"The readings are really wild on many wear metals in the first three [oil] changes on a new engine, and then they come down to very low levels, and you can begin to see the trending," says James Gambill, Chevron Lubricants manager – direct marketing.
Test results from an oil analysis are commonly available a few business days after an oil change, and it is not a requirement to keep a truck at a service facility while the analysis is being performed. In most cases, an oil sample is taken during a drain and sent off for testing while maintenance is completed and the truck is sent back on the road.
When the test results are released, the truck owner is notified of the findings.
"The lab can identify problems that are not visually apparent, such as fuel dilution or coolant contamination," says Frederick. "When used consistently, used oil analysis is a preventive maintenance tool that can help avoid costly problems in the future."
And making oil analysis an option in your lubrication procedure is easy. Simply offer the test to your customer before beginning the oil drain, and if it is requested a technician can take a quick sample and send it to a lab. If a customer doesn't request it, you just skip it.
After the engine oil has drained completely, it is time to change the oil filter and add new oil to the engine. Arcy says approximately 85 percent of heavy-duty oil is 15W40, but other types can be used depending on the truck's operating requirements and driving environment.
It is a good idea to stock lower-grade motor oils (such as 10W30) during the winter to provide customers multiple options. Arcy says 10W30 has a better low-temperature pumpability than 15W40 and a smoother flow once it is moving, and when a truck is running in sub-zero temperatures, that is a major benefit.
Different engine oils also can improve fuel economy, something Arcy says fleets are constantly striving to achieve.
Once a customer decides on a grade of motor oil, a technician should first lubricate the new oil filter with the oil and then install it on the truck. When the filter is in place, he can begin filling the engine with the OEM recommended amount of oil.
During this time, it is important for the technician to survey the area underneath the engine and oil filter for leaks, says Middleton. A filter that is not installed properly can allow oil to slowly seep out of the engine, and an engine operating with less than optimal levels of oil can suffer chronic problems.
Greasing a truck chassis is another important step in an effective lubrication process, and should be done at every oil drain interval. Providing grease to the moving parts of a chassis is essential to reduce friction and keeps the moving parts performing at top levels.
The final steps in an effective lubrication process is checking the lubricants used in other areas of the vehicle.
Allison Transmission recommends changing the transmission fluid on its units every 50,000 miles for severe-duty applications and 100,000 miles for general-duty applications.
Because of those longer intervals, Middleton says it is a good idea to check transmission fluid levels while performing oil changes. This can be done as part of a DOT inspection while the oil is draining, or independently. The same checks need to be done for other types of transmissions as well, and other lubricants used in the truck.
Frederick says no element of a truck is immune to a failure caused by a lack of lubrication.
"Catastrophic failure of any moving component(s) is possible," he says. "However, this cost can pale in comparison to the cost of missed loads and lost customers. Effective lubrication is absolutely critical to keeping the freight moving and the customers happy." ■
Editor's Note: John G. Smith, contributing editor, also contributed to this article.