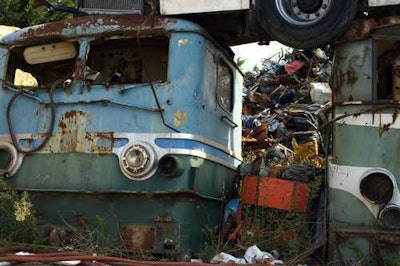 In an effort to weather a tight economic climate, owner-operators are looking at every reasonable option to keep their trucks moving and keep cash in the bank.
Aside from fuel, maintenance can be one of the most profit-zapping expenses to a one-truck owner's bottom line.
In an effort to save money and keep trucks operating safely, many are turning to used and refurbished parts.
"All truck owners, not just owner-operators, are seeking alternatives to running new expensive trucks that do not have the engine life, or as well of fuel mileage performance, as some of the older engines," said Jimmy Kitchens, President of American Truck Parts, Inc. "Truckers are keeping trucks longer and repairing or rebuilding in order to compete in a tough industry."
Aside from the cost, having readily available parts, Kitchens said, is another driving factor in the influx of new customers to the market, which has been an economic boon to the Douglas, Ga.-based operation.
"We have seen our customer base expand from primarily owner-operators (in the) loggers and construction market to small and large fleets seeking used and rebuilt parts to extend the life of their equipment."
Feedback and demand from customers seeking reduced-cost parts forced American Truck Parts to expand product lines even further while fine-tuning their own expertise.
"For years we only sold rebuilt transmissions and rears, but due to demand from customers for less expensive parts we now give the customer the option of rebuilt or inspected used takeout," Kitchen said. "We use both aftermarket and OEM parts in our rebuilt units. After years of rebuilding we have learned which gears and manufacturers to use to build a quality unit for the least amount of money."
Remanufactured parts are also serving fleets as a viable cost-cutting parts outlet.
U.S. Reps. Gary Peters (D-Mich.) and James Lankford (R-Okla.) have introduced the Federal Vehicle Repair Cost Savings Act of 2014 (H.R. 4056), which encourages civilian federal fleet managers to use remanufactured parts when maintaining the fleet, noting the environmental, economic and product performance benefits associated with their usage.
Motor & Equipment Remanufacturers Association (MERA), a division of Motor & Equipment Manufacturers Association (MEMA), has thrown its support behind the bill.
Citing a March 2013 Government Accountability Office report, MEMA says there are approximately 588,000 vehicles in the civilian federal fleet. H.R. 4056 encourages the use of remanufactured parts in maintaining the fleet, thereby realizing the economic cost savings while preserving quality and performance.
"In a 2012 report from the U.S. International Trade Commission, the United States is the world's largest producer, consumer and exporter of remanufactured goods," says Steve Handschuh, president and CEO, MEMA, who adds the industry supports more than 180,000 hard working men and women in the U.S.