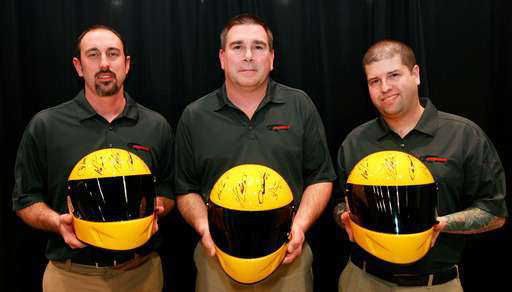 Penske Truck Leasing Tuesday announced the winners of its 2012-2013 National Technical Challenge.
The Tech Challenge is an in-house event held every other year designed to test the skillsets of the company's truck maintenance technicians through both hands-on and written assessments.
There are two types of entries: a two-person vehicle systems team and individual competitors in the preventive maintenance (PM) event.
"The competitive spirit of the Tech Challenge is quite a sight to behold," says Bill Jacobelli, Penske Senior Vice President of Maintenance. "Some of our company's best truck technicians took part in this event, and I commend these outstanding gentlemen for their noteworthy achievements.
The vehicle systems competition mainly measured knowledge of electrical and diagnostics systems. The PM event tested that a truck's operations were running correctly and that various parts were still functioning properly.
Bob Shaw, 45, and John Crawford, 36, won the vehicle systems event. Shaw is a Lead Technician at the company's Canton, Ohio, location. Crawford, a Lead Technician, works from Oakwood, Ohio. The winner of the PM competition was David Bridgeman,31, Customer Service Representative 1 from Portland, Ore.
The finals took place recently at a Penske facility in Winston-Salem, N.C. An awards banquet was held at Penske Racing headquarters in Mooresville, N.C., where the finalists were honored and received their prizes.
The 15 finalists were a part of a group of more than 1,250 Penske associates who voluntarily took part in competitions dating back to August. These associates progressed through district, area and regional events across North America.
"The Tech Challenge serves as a vital training tool for our technicians," Jacobelli says. "As a result, we are able to improve our truck maintenance processes that ultimately benefit our customers."
Vehicle Systems Competition Regional Winners (team event)
1. Bob Shaw (Canton, Ohio) and John Crawford (Oakwood, Ohio), North Central Region (National Winners)
2. Mike Edmonds and James Gage (both of West Valley City, Utah), Western Region
3. David Rosko and Daniel Bialowas (both of Pittsburgh, Pa.), South Central Region
4. Bruno Dube (Laval, Quebec) and Mario Castagnier (Saint-Laurent, Quebec), Northeast Region
5. Ricky Schley (Mobile, Ala.) and Tom Coxon (Pensacola, Fla.), Southeast Region
Preventive Maintenance Competition Regional Winners (solo event)
1. David Bridgeman (Portland, Ore.), Western Region (National Winner)
2. Chris Bringman (Brookpark, Ohio), North Central Region
3. Brandon Costner (Charlotte, N.C.), Southeast Region
4. Mike Murphy (Framingham, Mass.), Northeast Region
5. Dylan Wyrick (Austin, Texas), South Central Region