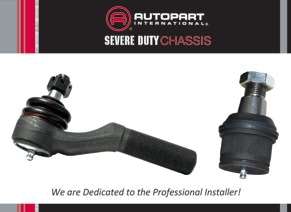 Autopart International has introduced a new Severe Duty Chassis line engineered specifically for trucks, SUVs and commercial use vehicles, offering improved durability and extended life on ball joints and tie rod ends.
The heat-treated housing is forged from SAE1045 steel and the powdered-metal gusher bearings with grease grooves extend product life, and a larger ball socket gives the ball joints added strength, the company says.
"We developed the Severe Duty Chassis line to meet the needs of our customers, who told us they wanted stronger and more durable chassis products for their truck, SUV and fleet vehicle customers," said Rich Jolivet, vice president of product management at Autopart International. "We improved upon the OE to serve our customers' need for Severe Duty Chassis products."
The 160 new Severe Duty Chassis SKUs complement the more than 3,000 SKUs in the premium chassis line, the company said. Autopart International's Severe Duty and Premium Chassis lines are available at all 218 Autopart International warehouse locations.