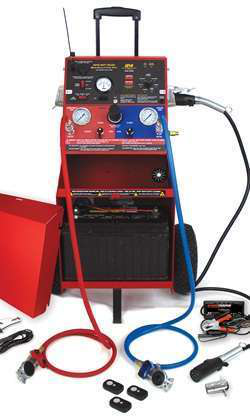 Innovative Products of America (IPA) Inc. has partnered with commercial tire dealers to improve trailer inspections.
According to IPA, many tire dealers have their technicians perform commercial trailer safety inspections along with standard tire checks. IPA's most advanced trailer tester to date, the remote-controlled Super MUTT Deluxe (P/N 9008) for lights and air brakes, offsets the time and resources needed to train technicians to inspect trailers, the company says.
Aimed at eliminating the most common Compliance, Safety and Accountability (CSA) roadside violations, the Super MUTT Deluxe improves inspection accuracy.
The company says the Super MUTT provides a thorough and efficient inspection by placing a load on the trailers circuitry and identifying poor grounds and crossed/open/shorted circuits. Additionally, technicians can perform leak down tests, remotely apply service brakes and activate ABS blink codes.
The unit comes with a training DVD.