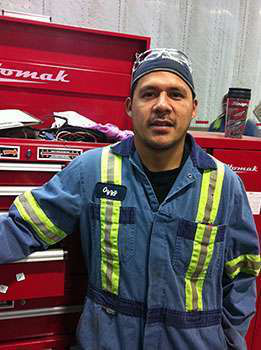 The Alberta Apprenticeship and Industry Training (AIT) Board has named Trailer Wizards' Licensed Mechanic Osmar Salguero as its Top Apprentice in the HET (Heavy Equipment Technician) – Transport Trailer Mechanic Trade. A Top Apprentice is selected annually from each trade by the AIT Board based on his/her combined marks in the final period of apprenticeship training, demonstration of skills, dedication to the trade, and on an employer's recommendation.
"In Calgary, we are lucky to have a group of very valuable and dedicated apprentices," Fred McFee, Manager of Trailer Wizards' Calgary Branch stated. "Osmar is a great team member who demonstrates what Trailer Wizards represents in its high standard for knowledge. He has displayed a drive to learn and has excelled in his recent completion of the apprenticeship program." McFee continued, "We are proud to have him as part of our workforce and congratulate him on his accomplishment."
The award ceremony will take place in April at the Alberta Apprenticeship and Industry Training Board Awards in Edmonton, Alberta.