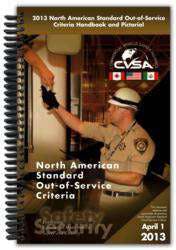 The Commercial Vehicle Safety Alliance (CVSA) announced Tuesday the release of its 2013 North American Standard Out-of-Service Criteria Handbook and Pictorial (OOSC).
The OOSC, the only official reference book of its kind for law enforcement and the motor carrier industry, is designed to improve commercial motor vehicle safety by promoting uniformity in compliance and enforcement throughout North America.
"Every motor carrier, CMV driver, technician and maintenance personnel should be familiar with the North American Standard Out-of-Service Criteria," says Collin Mooney, deputy executive director for CVSA. "This is an invaluable resource for the entire commercial motor vehicle community."
CVSA has maintained, updated and published the North American Standard OOSC for more than 20 years. It's become the standard for highly qualified, specially trained and certified state, provincial, territorial and federal law enforcement personnel in identifying Critical Vehicle Inspection Item violations during a roadside inspection.
Specifically, the 2013 North American Standard Out-of-Service Criteria Handbook and Pictorial includes:
• Part I—Detail violations which place a driver out-of-service.
• Part II—Outline the Critical Vehicle Inspection Items and provides direction to each commercial vehicle inspector in North America identifying at what point a commercial motor vehicle can no longer be safety operated for fear of causing an accident or breakdown, due to its mechanical condition.
• Part III—Provide guidance for unsafe hazardous materials transportation, including both conditions which fail to communicate a hazard and those which are themselves hazards.
• Part IV—Establish criteria for placing a motor carrier out-of-service.
"Knowing which commercial motor vehicle violations are most likely to cause a breakdown or a crash helps provide carriers with the necessary focus and prioritization on vehicle maintenance issues, which, of course, is critical to ensuring safety," Rob Abbott, vice president of safety policy with the American Trucking Associations and chair of CVSA's Associate Advisory Committee says. "It also helps prevent unnecessary delays and down time in transit that can result from a vehicle breakdown or having a vehicle placed out-of-service."