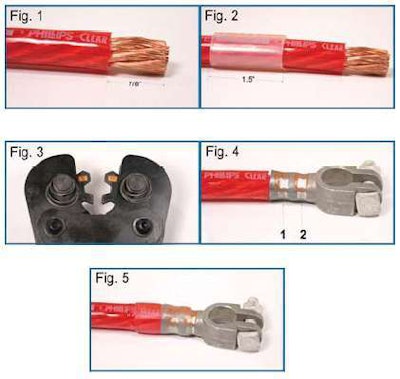 Phillips Industries has released these tips for creating a custom battery cable when a pre-assembled cable just won't do.
Battery cables can be built three ways, by crimping, crimping and using heat shrink tubing and soldering terminals and slugs and then using heat shrink tubing. Phillips says crimping is the quickest custom assembly method but has the highest risk of corrosion, while the second and third methods take long to do but dramatically reduce corrosion risks.
The company says the second option, crimping and heat shrink tubing, is the most common method.
In its October edition of Qwik Tech Tips, Phillips Industries lays out the steps for building a cable using crimping and heat shrink tubing.
1. Confirm the length of battery cable needed.
2. Strip 7/8 in. of the jacketing from the end of the battery cable. Battery terminal barrels require approximately ¾ in. (Figure 1)
3. Slip 1.5 in. of the heat shrink tubing over the end of the battery cable and slide it out of the way. Insert the bare battery cable wire into the barrel of the battery terminal. (Figure 2)
4. Set the dies of the crimping tool for the size and color code battery terminal you are using. Crimp tool die codes and sizes are printed on every battery terminal. (Figure 3)
5. All cast copper battery terminals are designed for 2 crimps (4 crimps on flag terminals). Make the first crimp closest to the barrel opening and the second crimp furthest away from the opening. (Figure 4)
6. Slide the shrink tubing over the terminal with the center of the tubing aligned with the end of the barrel. Use a heat gun or torch to shrink tubing down over the connection. (Important: Be careful to heat the shrink tubing evenly all the way around. Shrink tubing can melt if it gets too hot.) (Figure 5)
For more information on building a custom battery cable, visit the Qwik Tech Tips website.