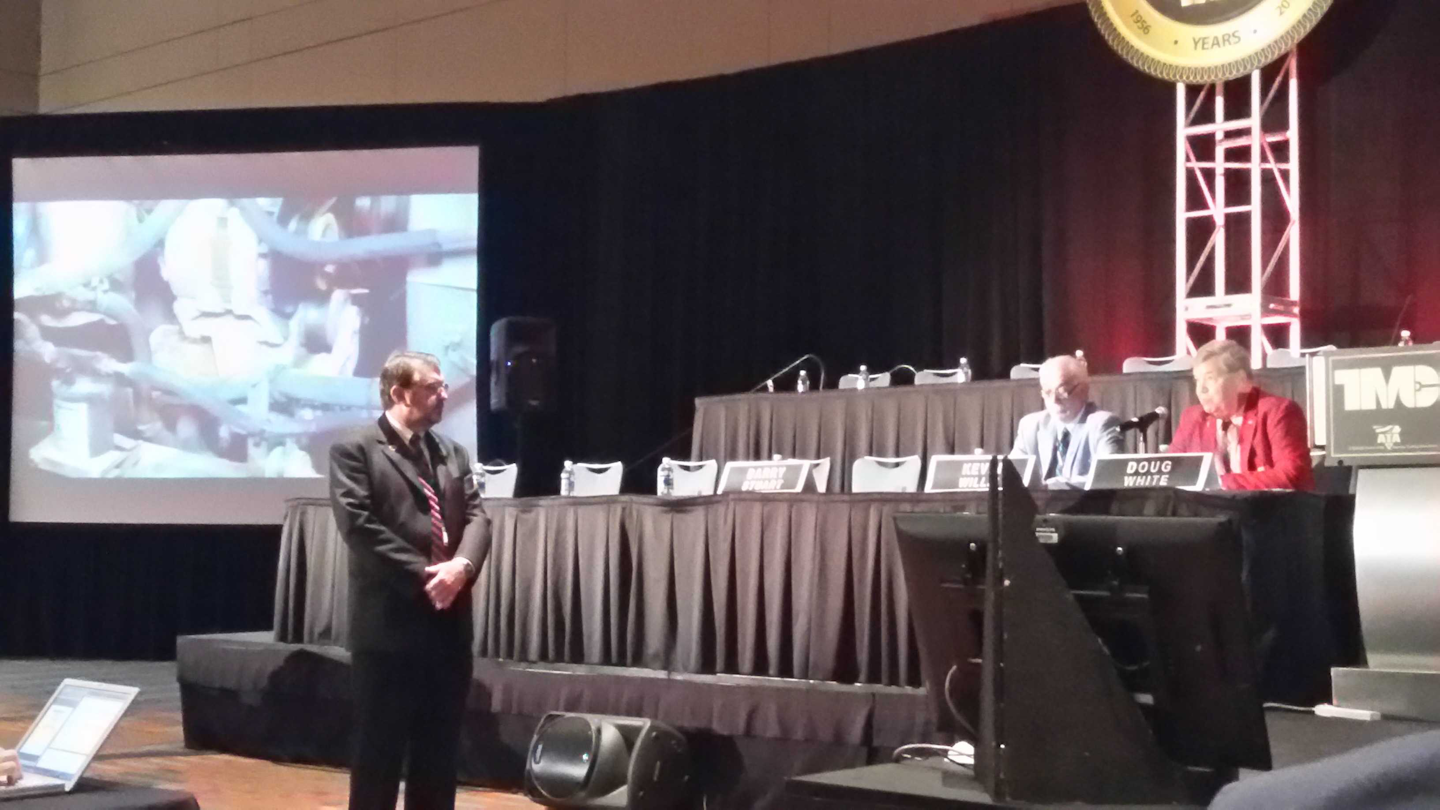 Day three at the Technology & Maintenance Council's (TMC) fall meeting in Raleigh, N.C., on Wednesday started with an engaging discussion on every fleet manager's worst enemy: corrosion.
After brief presentations from five corrosion experts on the various chemicals that lead to tractor and trailer degradation, moderators Darry Stuart and Jim LeClaire and panelists Doug White and Kevin Willis used a live stream to inspect a horribly corroded vehicle, stopping periodically to focus on specific components and share their experiences in fighting corrosion on each part.
White, vice president of maintenance at Dunbar Armored, was especially candid about how corrosion is creating problems for his fleet.
"It's a huge problem and it's pushing on our maintenance budgets quickly," he says. "We've had to alter our PMs to make sure that we don't miss something."
Willis, maintenance director at Pepsi, says the increasing risk of corrosion is almost overwhelming. He says he's successfully lobbied for a larger budget to fight the road chemicals destroying his trucks, but even with extra funds he says he's still struggling to stay ahead.
"Pepsi is very committed to safe, dependable assets on the road every day, and that's where the money has come from so we've been able to do what we need to do," he says.
The two fleet managers say they've attempted to combat the issue with regular washing, a yearly corrosion inhibitor spray and a corrosion-specific inspection during PMs.
Types of corrosion
While magnesium chloride garners the most headlines, Wednesday's technical session referenced four chemicals and one natural fluid that contribute to most vehicle corrosion.
Potassium Chloride: One of the more expensive chloride options, this is commonly used on sidewalks but rarely on roads. Easy to handle and store, Potassium Chloride is one of the easier chlorides to remove from vehicles.
Sodium chloride: Salt is commonly the cheapest chloride option. It used to be mixed with sand and now is commonly used with beet juice to increase adhesive properties and performance in lower temperatures. Used alone, it is especially corrosive against copper wiring, firewalls and interior components.
Calcium chloride: This chemical is commonly used as a de-icer and is fairly effective when well timed. One of the more expensive options, calcium chloride is not aggressively corrosive when used on its own, but can become significantly stronger when mixed with other chemicals.
Magnesium chloride: Probably the most common and most vicious chloride, this chemical is effective down to 5 degrees. Applied as a liquid de-icer before storms, it is sticky, hard to remove from all surfaces and extremely absorbent. It's also the cheapest option, which makes it a preferred option for municipalities. Some states add a corrosion inhibitor to the liquid before distribution but most do not.
Beet juice: Mixed with salt to make the chemical stronger at lower levels. Beet juice is incredibly sticky and helps transfer salt onto vehicles and into hard-to-reach areas.