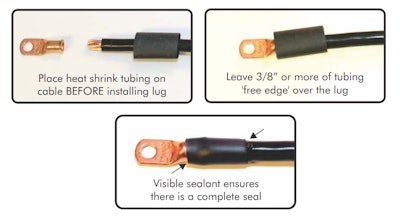 The April 2018 issue of Phillips Industries' Qwik Tech Tips is titled, "Heat Shrink Tubing – Proper Selection & Installation Tips to Help Avoid Downtime."
Phillips says it is important to address this topic in its monthly technical bulletin because the service requirements for replacing battery terminals and copper lugs are expanding.
"It used to be that when replacing a battery terminal or copper lug, the cable would be stripped back, the terminal or lug would be crimped on, and the job was considered complete," the company states. "However, by doing so, the cable was left open to moisture intrusion, which leads to corrosion, making this practice something to avoid.
"To help avoid downtime associated with corrosion, a solution to the negative consequences of leaving an electrical connection open, such as a battery connection, is to use heat shrink tubing. Where possible, always use heat shrink tubing to create a sealed connection, whether it's for a new build, splicing into the electrical system, making repairs, or simply maintaining connections already on the vehicle. Additionally, proper selection and installation of heat shrink tubing will offer protection from extreme weather conditions, ensuring a reliable, corrosion-free, electrical connection."
This month's issue of Qwik Tech Tips goes on to list different types of tubing that can be used, and a number of steps for how they should be installed.
To read more, including these installation steps, please CLICK HERE.