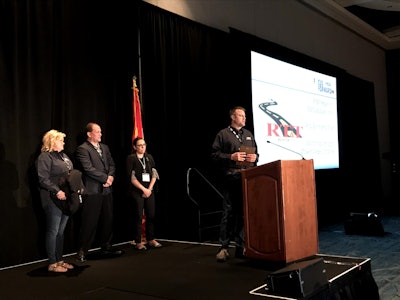 RT&T Repair Inc. of East Dubuque, Ill., was named the 2018 Truck Service Expert of the Year at the 2019 HDA Truck Pride Annual Meeting Thursday in Orlando, Fla.
A customer of Midwest Wheel Companies, RT&T Repair is led by the husband and wife team of Andy and Kimberly Miller. The service shop has 15 employees, ten of which are technicians (six truck, four trailer).
In accepting the award Thursday, Andy Miller was quick to compliment his employees and his partnership with Midwest Wheel and HDA Truck Pride. He says RT&T Repair works with Midwest Wheel Territory Manager Doug Christensen and the company's Cedar Rapids, Iowa, branch.
Since joining the TSE program, RT&T Repair purchases with Midwest Wheel are up 191 percent as the company "gives us the right parts at the right time to fix the trucks the first time," Miller says.
"This is a heck of an honor," he adds. "Many, many thanks to HDA Truck Pride for helping me grow my business."