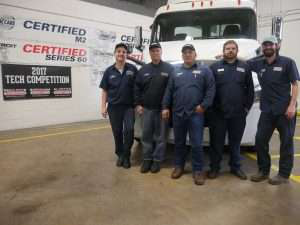 Peach State Truck Centers hosted its second-ever service technician competition this week at its Peach State Freightliner location in Austell, Ga., inviting 15 techs from locations that qualified for the competition by receiving a high score in a written examination taken in September.
The winner of the competition will receive $5,000 and a trip to the Detroit Diesel factory in Detroit or one of the Freightliner Trucks production facilities.
Five techs competed each day of the event. During the day the techs had five hands-on, one-hour tests. Each station consisted of a "bugged" truck that the tech had to diagnose, troubleshoot, repair and prepare a write-up for. Techs were graded for every aspect of their performance, even if they were unable to complete the repair.
"We have these trucks rigged with an issue these guys will see in the real world every day working on trucks in one of our shops," says John Elliott, Peach State Freightliner's Operations Manager for the South Atlanta stores. "It's not just about getting the truck fixed, but following all the necessary steps so that the process can be explained to someone else if the repair has to be finished by another person."
Peach State sees the competition as a way to reward some of the best technicians that work in their shops in Georgia and Alabama.
"I think we have some of the best technicians in the business and we want them to know that we appreciate what they do," says Peach State Service Director Bryan Leskosky. "The best of the best are here with us for the competition, but all of our technicians are well-trained due to our team of full-time tech trainers that keep all of our guys up-to-date on the latest technological advancements. We are very proud of these guys we love putting on these events so that they can come together and have a good time."
Second and third place finishers in the tech competition will receive a cash prize of $3,000 and $1,500, respectively. The winners will be announced Friday, December 8.
The next Peach State Truck Centers Tech Competition is slated for 2019.