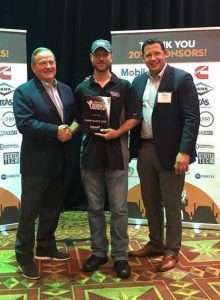 Summit Truck Group recently held its 6th Annual Summit Truck Group Technician Rodeo in Springfield, Mo. Service Technician Nathan Holden from Summit's Little Rock, Ark., location received top honors in the skills competition.
As a prerequisite for participating in the Tech Rodeo, Summit service technicians had to successfully complete 12 required service certifications through Navistar, and then a written qualifying test. Top scorers on the qualifying test from each location were then eligible to participate in the rodeo. During the rodeo competition, technicians moved through 14 challenge stations.
In all, 44 Summit service technicians competed in this year's event, representing each of the 28 markets in eight states in which Summit does business. For his 1st place finish, Holden received $5,000. Service Technician Travis Stovall from Russellville Ark., earned 2nd place overall and received $3,500; and 3rd place was won by Thomas Pianalto from Lowell Ark., who received a $1,500 prize. In addition, station prizes were awarded for each of the 14 challenge stations, with the 1st place technician at each station receiving $500; 2nd place earned the winning tech $300; and $150 was awarded for 3rd place. In addition to their overall wins, Holden received seven station awards, and Stovall and Pianalto each won four station awards.
The technicians who competed in this year's event represent the highest caliber of technician within Summit, according to an announcement. Of the Tech Rodeo competitors this year:
22 are Diamond Certified, which means they have completed all International technician certification courses, plus received ASE certification in T2-T8 plus L2.
All 44 are Master Certified, having completed all International technician certification courses.
30 achieved Summit Pit Crew status. Pit Crew is a Summit program that rewards technicians for their dedication, efficiency, hard work and commitment to making Summit successful. Techs in the Pit Crew are eligible for monthly, quarterly and annual prizes through this program.
18 are Diamond Certified, Master Certified and achieved Summit Pit Crew status.
Participating in the Tech Rodeo is another step Summit technicians take as they invest in their career. Training and certification is ongoing throughout the year, and qualifying for the annual Tech Rodeo is a huge achievement for the technicians.
The rodeo took place in the Springfield Convention Center, and was organized by Jim Hinton, Summit's regional service trainer. Summit Chief Operating Office Steve Dupuis says of the event, "Jim does a fantastic job every year of putting the tech rodeo together. I was impressed by the professionalism and technical abilities of our technicians, who take this competition seriously. Our technicians are a vital part of the service Summit provides our customers, and they are proud to show off their skills in this event."
Summit CEO Justin Fink adds, "Part of Summit's mission is to create an environment where our employees can prosper professionally, and this event is intended to focus attention on the professional skills of our technicians. All of the technicians who participated in this event can be proud of their accomplishments. Summit continues to invest in retaining and training the best technicians in the industry, which translates into a better level of customer service."
Vendors who support this year's Tech Rodeo included platinum sponsors Eaton, Exxon/Mobil, Navistar, and Ravamerica; along with Central Power Systems, Cintas, Cornwell Tools, Crowder College, Cummins Engines, Dana, Drive 360, Gray Manufacturing, Mac Tools, Matco Tools, Meritor, NanoMech, Northwest Technical Institute, Orion Novotus, Scott Tech, Snap-On Tools, State Technical College of Missouri, and University Plaza Hotel.