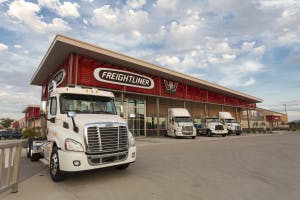 A commercial truck owner can buy a brake drum just about anywhere.
That's why so many parts and service departments eagerly search for ways to be different from their competitors.
For dealers uninterested or unwilling to differentiate themselves through price cuts, customer service is the best way to establish exclusivity and uniqueness.
Nailing customer service is no easy task. Consistency is imperative. A dealer that chooses to hang its hat on customer service must be confident its entire team can provide the level of service it promises its customer base. Within a sales team, this means ensuring a customer receives an identical experience regardless of the employee with whom he is interacting.
For dealers eager to ramp up their customer service, there are several ways to enhance communication within a sales team.
Cultivate employee relationships
Like any team, employees work best together when they are familiar with one another.
Dealers focused on customer service as a differentiator should take time to create and foster relationships between their outside and inside salespeople so both groups can seamlessly communicate customer requests and needs. This is especially valuable for outside employees who are reliant on in-store associates to fulfill customer orders taken in the field, but who may spend little time directly interacting with those colleagues during the day.
One of the easiest ways to cultivate relationships between a sales team is scheduled on-site meetings. While these meetings can be specifically for team-building, it is not required. Regular meetings to discuss new products or quarterly sales goals also can double as team-building experiences, so long as all you bring all employees together and encourage them to interact and share knowledge, says Ian Coburn, president at GPA Training.
But company meetings aren't only valuable for highlighting best practices. For large organizations, on-site meetings also are sometimes the only opportunities employees get to meet and interact face-to-face. Relationships between employees successfully developed over email or phone are wonderful, but it's no secret that bonds are formed faster through personal interaction.
It's why Mike Cueto was such a fan of team-building exercises in his prior role at Velocity Vehicle Group (VVG). After retiring from VVG, Cueto founded Heavy Duty Training & Consulting. He recommends dealers or distributors "make sure those meetings are not just product training events … Product training is important, but it shouldn't be everything. You need more than just product knowledge to be successful."
In his prior role, Cueto says he would always include time within an event itinerary for networking and team-building activities.
When employees from different departments and locations come together in a non-business setting, they form bonds that remain in place once they return to their respective duties.
Coburn adds employee relationships also can encourage cooperation and eliminate unnecessary sales calls.
"It's amazing how many times two salespeople will go out to a fleet and the customer will tell them, 'Your other guy was just here,'" he says. "They didn't communicate with each other about where they were going … they could have gone together."
Use technology where possible
When face-to-face interaction isn't feasible, dealers also can rely on technology to connect and strengthen employee bonds.
Video is a useful communication platform that allows sales managers to convey a lot of information to a geographically distant team in a short period of time.
Webinars also can be useful for communicating and training a sales team. On-site training is great when possible, but incredibly time-consuming. Getting one message to everyone can take weeks. Webinars enable the company to train everyone on new tools or processes in an hour or less, regardless of their location.
Dealers and can also use customer relationship management (CRM) software programs as a repository of customer data for all employees. As salespeople interact with customers in the field, they submit their call notes to a CRM platform, which then immediately makes this information available to all other associates with access to the tool. The system works the same way from a location outward, meaning traveling salespeople can access records of a customer's in-store purchases before entering the customer's facility as a way to better prepare for a conversation.
With a multitude of CRM providers currently operating in North America, finding the company with the best product for a dealer's business can take time.
Instead of an off-the-shelf solution, VVG Vice President of Parts Sal Maldonado says his business built its own in-house CRM two years ago when it was unable to find the perfect fit.
"It was important to us that we had something that was clean and easy for our guys to use," he says. "If they are going to be [using] it every day, we wanted it to be designed for them."
Focusing on functionality is critical. When relying on technology to facilitate employee communication, less is often more.
One CRM platform gaining prominence in the trucking industry is sales-i. Dominic Starr, general manager at sales-i, says the product's simple user interface enables sales people to quickly determine: "What are they buying from you? What are they not buying from you? What should they be buying from you?"
Compensating communication and teamwork
Rewarding employees who cooperate in assisting customers is another way to cultivate buy-in to customer service initiatives.
Cueto says in his prior role he always made a point to publicly recognize and applaud employees when they worked together to address a customer need. He is now advising his clients to do the same. He says these acknowledgements can be done any number of ways — during meetings, conference calls, email blasts — the method is not as important as the message. "I always wanted them to understand how much we appreciated what they did for us," he says.
Maldonado says the tactic is still in place at VVG today.
Public commendations also can become quick training opportunities. Cueto says in situations where employee efforts exceed company expectations and protocol, managers should encourage their employees to introduce their successful personal strategies company wide.
"I think sometimes employees pay better attention to their teammates than someone else because they know if [their teammates] are saying something, then it works. They know the person making the statement is living in their shoes every day," he says.
Teamwork can be financially beneficial for employees as well. Maldonado says VVG's commission-based sales structure encourages cooperation "all the way to the bank," and adds the company's leasing department also rewards employees with gift cards when they uncover a new lead in the field.
"It doesn't matter what it amounts to," he says. "If you pass it along, you are rewarded."