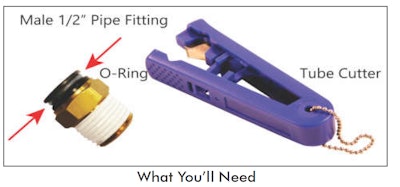 The June 2018 edition of Phillips Industries' Qwik Tech Tips is titled, "How to Repair an Air Coil Lead in an Emergency by Replacing the Fitting."
Air lines can sustain damage near their connections on the trailer side when a vehicle jackknifes or pulls away, Phillips says in its monthly technical bulletin. Even if the vehicle is equipped with a spring guard, tubing can be stressed, leaving coiled air lines inoperable.
However, according to Phillips, if damage occurs to the lead close to the fitting, a temporary repair to the air line can be made if enough length is available with a composite push-to-connect fitting with an O-ring and a nylon air tube cutter. Phillips stresses this is a temporary solution in an emergency situation.
For more information, including step-by-step instructions, CLICK HERE.