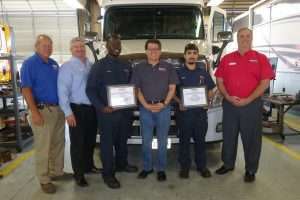 Two trainees are officially Four Star Freightliner diesel technicians after graduating from the company's newly organized apprentice program, according to an announcement.
The trainees, Timothy Bibb and Nicholas Smith, spent three months in intensive training that included classwork and supervised, hands-on work in the shop. While working in the shop, the pair received guidance from experienced senior technicians as they applied their recently taught skills.
With the technology that comes with a modern truck, it is almost impossible to walk into a shop and perform any kind of repair without having additional training. The owner of Four Star Freightliner, Jerry Kocan, started the apprentice program so that someone with little to no experience can still have an opportunity to become a technician. Kocan's answer to the problem was to start the Four Star apprenticeship program.
After successfully completing the program, trainees are offered a job at a Four Star dealership. Bibb and Smith now work at the Montgomery, Ala., dealership. David Carroll, Four Star Freightliner's training manager, worked closely with both men during the program and taught them different skills at our Dothan, Ala. dealership.
"Both came ready to learn," says Carroll. "They like what they do, have a good work ethic and are hard workers. I see great potential in both of them. They're going to be great technicians."
The apprentice program can run between three to six months. Four Star will provide starter tools and after a certain period of employment the tools become the property of the technician.