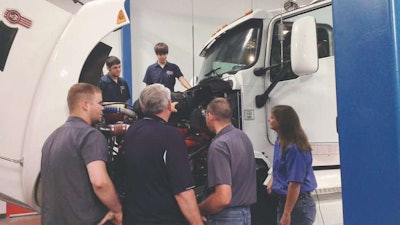 The shortage of technicians in the heavy-duty truck service industry remains an ongoing problem, leading many businesses to try everything and anything to hire techs they need now.
While filling today's needs, many in the industry also are trying to develop a steady stream of future talent.
"Nothing we have done has allowed us to hire all the people we want. We could hire 40 more techs right now and put them to work," says Greg Klein, president and CEO at Inland Truck Parts & Service, which employs more than 150 technicians at its facilities across the Great Plains.
Tim Grabow, vice president of operations at Blaine Brothers, is one of many in the industry who shares Klein's frustration. Blaine Brothers is part of a family of companies that includes independent service facilities and commercial trailer dealerships, employing approximately 180 technicians.
"We're trying so many things. Nothing is off the table," Grabow says. "If we think we can get some traction with an idea, we try it."
So, why is it so hard to find technicians? Dealers and service providers offer several reasons, including perception of the industry, noncompetitive pay and high schools basically programming students that college is the only path to the brass ring of a successful career.
The biggest struggle in getting young adults interested in the profession "is the perception that a repair shop, especially a diesel or heavy transportation repair shop, is dark and dirty and the work is back-breaking," says Grabow. "It isn't like that anymore. We run very efficient, bright, clean shops."
The fundamental cause behind the shortage of skilled-trade workers, in general, is "in no small part due to the societal change that has occurred over the past several decades in which high school students are being told that the best path to a secure financial future is through a college education," says Klein.
Regardless of the reasons, the result is a taffy pull for talent. "The industry is constantly fighting over the same pool of techs, which isn't big enough," says Klein.
Getting techs now
Grabow says Blaine Brothers is being aggressive by posting positions on hiring sites as well as the Careers page on its website. In addition, the company is working with a third party to assist with advertising on Facebook more effectively. "It's a full-time job," he adds.
On the topic of full-time jobs, about a year and a half ago, the company hired a human resources representative to improve its hiring process. "For years, our shop supervisors who already were busy with their day-to-day responsibilities [were also tasked with] hiring people," says Dean Dally, Blaine Brothers president and owner. "The supervisors didn't always make the best choices because they didn't have the time or knowledge of how to hire the right person."
Dally says he has needed to be aggressive with hiring because his company just built a North American Trailer location.  "After we did add this person, we realized how much better our hiring process became," he says.
Marc Karon, president at Total Truck Parts, says hiring technicians is very difficult, but it became easier once Total Truck Parts realized what helps draw them.
"Technicians want to work for companies with the best reputations and companies that are willing to invest in the best shop equipment. Technicians know that they are in demand and can command a significant salary, so you have to be able to pay them top dollar," he says.
But to pay technicians top dollar, you have to be able to charge top dollar for your services.
"You have to be the best in your market," Karon says. "The best is defined as being able to do the repair right the first time and being able to take care of all the customers' needs. To help bring out the best, technicians are paid a commission based on quality and efficiency."
Several service providers also say the quality of the facilities and company image inside and outside the businesses' buildings can play a role in attracting needed help.
"Our facilities need to be clean," Dally says. "I believe the same goes for our vehicles. "We need to have our service trucks and tow trucks clean and attractive to provide people with a good impression."
Sweetening the pot
To attract new hires and, just as importantly, retain current technicians, several service providers have added benefits, such as additional training, signing bonuses, assistance with school debt and tools, among other enticements in an effort to meet their staffing needs.
Because the need for technicians is so great, many service providers try to trump other shops with higher wages and signing bonuses. Despite this, Total Truck Parts has virtually no turnover, according to Karon.
"When we hear of competitors trying to poach our technicians, we do our best to mitigate the pay difference," Karon says. "Of the few technicians that have left, chasing the dollar, almost everyone has returned."
But fighting wage wars and offering larger bonuses could be a short-term fix, according to Klein.
"The problem is if you get people who are willing to come to you for money, they will be willing to leave you for money," he says. "At some point you're going to reach a pain point where you can't pay anymore."
Another way to retain technicians is by providing them with additional training. The benefit is twofold. Employees expand their knowledge and companies get technicians who are more highly skilled.
"On-the-job training is one of the most important ways you can keep a technician," says Craig Fry, executive director at Service Specialists Association (SSA). "I'm always amazed at the number of shops that offer only very limited training for fear their technicians might leave. They always say, 'What if I spend all that time and money to train my technicians and they leave?' Here's a more frightening question: What If I don't train my technicians and they stay?"
TravelCenters of America (TA) and Petro Stopping Centers has locations in 43 states and in Canada and employs more than 3,000 technicians. In addition to offering free online training through Freightliner, TA offers paid training at one of three of its training centers, a program for employees who want to move into management and the company pays for technicians' ASE testing.
TA also provides a mentoring program for employees to help develop new hires.
"The mentors' function is to make sure new employees not only understand the concept of what they are learning, but also stand beside them while the new employees are performing the task, ensuring they are executing it correctly," says Mark De Lima Jr., TA truck service field trainer. Mentors receive a bump in pay and, perhaps more importantly, they play a part in the future success of a fellow employee, De Lima adds.
Another common perk to attract technicians fresh out of school are programs that reimburse their tuition or tools — or both.
"If we can take some of that burden off of them, sometimes that can attract employees," Grabow says. "We need them to be on their A-game, paying attention to what they're doing. The last thing we want is them worrying how they're going to pay for their tools or student debt."
Back to school
To deepen the future labor pool of heavy-duty truck technicians, service providers — to varying degrees — are getting in front of students to let them know the vocation is another option for them, help educate them and get them into the profession.
There are several instances in the heavy-duty market where this is already happening.
Peterbilt Motors Company currently enjoys a fruitful relationship with Universal Technical Institute (UTI). The Peterbilt Technician Institute (PTI) is an OEM-specific training program enabling Peterbilt to recruit UTI students and train them on Peterbilt trucks, providing dealerships with a constant source of techs familiar with the OEM's vehicles. The 12-week program has trained and provided Peterbilt dealerships with nearly 440 technicians since it began almost five years ago.
"PTI aids our dealer network by finding the new generation technician who is not afraid of embracing technology and the changes it brings to servicing Peterbilt vehicles," says Brian Brooks, PTI director. "Each PTI graduate is well-versed in all online systems and diagnostic tools associated with the Peterbilt product. Because we attract young technicians, they are more loyal to the Peterbilt brand and less likely to leave for a competing brand, thus reducing turnover and training costs within the dealer network."
TA has a dedicated team for recruiting technicians, as well as service advisors and management. The company has established relationships with schools enabling it to provide in-school presentations and attend technical school career fairs.
"We hire them upon graduation; however, there are some [TA] locations that are close enough to a technical school that we will hire them part-time while they are still in school," says Chad Estle, TA lead truck service recruiter.
Rush Truck Centers averages more than 100 technician openings at any given time, and like many works with local, regional and national tech schools to support their programs and leverage as a source of talent. COO Mike McRoberts adds that once a new tech comes on board, Rush invests heavily in training, and a frequent review process to keep them advancing and on the Rush team. Employee loyalty doesn't eliminate turnover, but it sure helps, he says.
Finally, Blaine Brothers attends Career Day events and helps local technical schools with parts and equipment and offers paid internships. The company also joined the advisory board of the Tri-District Career & College Readiness Initiative, created by school districts in the Minneapolis area. The program has enabled the company to talk with students and take them on tours of its facilities.
"We're able to get in front of the kids at a high school level, at 11th and 12th grade," says Grabow.