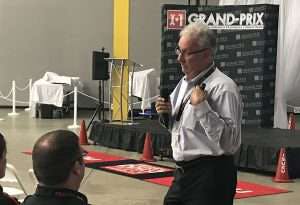 Nearly 11,000 diesel students graduate post-secondary tech programs every year.
That doesn't sound like an ingredient for a labor shortage, yet the fact that dealers coast-to-coast struggle daily to fill vacancies in the repair bay and retain their best technicians is indisputable.
That's a problem George Arrants, ASE Education Alliance manager for medium/heavy duty trucks and the chairman of TMC's Supertech competition, says is self-inflicted.
"For the last four decades, we've been telling kids 'go to college,'" says Arrants, who delivered the opening address at Isuzu's North American technician competition in Pittston, Pa., Wednesday. "We forgot to create the workforce that's going to maintain the infrastructure of our country, but Career and Technical Education is on the move. We are a service oriented nation."
Nearly 90-percent of employers recently surveyed by TMC say they have a shortage of qualified applicants, but the shortage of "qualified" applicants and a general shortage of applicants are two distinct problems.
"There is no technician shortage," Arrants says, noting the larger issue is the turnover associated with hiring new techs and the lack of applicants with the desired qualifications.
Part of the onus on turning out qualified applications falls on trucking industry stakeholders looking to hire them and if you don't know the name of the decision-makers at your local trade school, Arrants says you're part of the problem.
"The people that get involved with their local schools, they don't have this problem," he says.
As tax paying businesses, Arrants says the trucking industry has an obligation to ensure local diesel tech programs are turning out employable students.
"It's important that you spend time explaining to [the trade schools] what you need," he says.
If a local tech school doesn't have a diesel tech program Arrants suggests getting involved in the auto program, and if the local school doesn't have either he says to check out their Ag program.
"If a school doesn't have a diesel or auto program, we'll walk right by the [agriculture] program and it may have 300 students," Arrants says. "And they're involved in tractor restorations or some other mechanical program."
Finding students/applicants is only half the battle. Keeping them is another fight entirely.
The expectation that a new hire should hit the shop floor with a level of expertise comparable to employees with several years of seniority, a lack of a mentoring program and a management team that doesn't understand this generation, Arrants says, is a recipe for failure.
On average, it costs more than $8,000 to find and hire a tech on the shop floor. Having a person dedicated to onboarding that employee – ingraining them in your culture – is critical.
"Does that kid not know what he's doing or does he just do it different than the way you do it," Arrants says. New techs often more closely follow a manufacturer's recommendation or procedure – the textbook way. However, "in the real world" – where uptime is of more emphasis than process – the perception may be the new employee is slow or lacking skill.
"These younger technicians in these schools are taught process and procedure," Arrants says, "and there's a certain way of doing it."
Baptizing recent graduates in "your way" is an ongoing part of their career development and an important part in reducing turnover.
Tabbed as the "participation trophy" generation, Millennials have gotten a bum rap in the workplace and Arrants says it takes a willingness of the employer to learn how to manage the group.
"They only want two basic things," he says. "They want a clean, safe work environment but, more than anything else, they want to feel like they're part of the family. They're very talented and they are loyal. But they expect a few things from you."
Unlike the generations before them, Arrants says most Millennials value personal time more than money and as such may be unmotivated by overtime pay.
"Their time is important to them," he says. "If you ask them to do something that is important to you, they want something that is important to them in return. And it's not always about the money."
Incentives like comp time in lieu of overtime pay, Arrants says, will become an increasingly important benefit in attracting young talent.
"A good, seasoned tech – if the employer is taking care of them – isn't going anywhere," Arrants says. "If you're going to leave any business, it festers inside of you for a period of time until you decide that the unknown – wherever you end up – is better than where you are right now."
Competition for new tech talent is fierce and simply showing up at a career day, Arrants says, isn't going to cut it.
"Recruit in the beginning [of the school year], not the end," he says. "Don't wait for a career fair where you'll be one of 45 others. Go to the school when school starts."
Getting involved earlier in the student's education also helps shape their potential career path.
"Are they understanding your expectations at the career fair four weeks before they graduate," Arrants says.
The deeper you can imbed your operation in a local technical program, Arrants says the more likely that school will produce the skillset you need, and the more likely you'll be able to keep them long-term.
"When you work with a technician from a [local] school, the only bad habits they have are the ones you teach them," Arrants says. "When you hire a student from a school from more than 300 miles away, their chances of success are 20 percent."
The Isuzu's second annual Grand-Prix technician challenge brought together 12 service techs from dealerships across the U.S. and Canada this week to Isuzu's Center of Excellence and parts distribution center, each vying for a spot in the company's global technician challenge in Japan later this year.