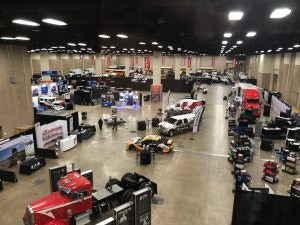 Though the event itself lasts only four days, building and sustaining the dealer industry's largest technician and skills competition is a year-long process at Rush Enterprises.
The event now known as the Rush Enterprises' Tech Skills Rodeo was first held in 2006 at the company's Nashville, Tenn., dealership. The inaugural event focused exclusively on heavy-duty service of Peterbilt tractors (the company didn't add International to its portfolio until 2008), with eight tables of attendees competing for $40,000 in prizes. The event was so small that first year the company was able to bring steel bleachers into the Nashville service center to account for the entirety of the event audience.
Now in its 13th year, it's safe to say the Rodeo has grown up a bit.
This year's competition kicked off Sunday at the Henry B. Gonzalez Convention Center in San Antonio with more than 900 people in attendance to witness more than 150 technicians, 30 parts professionals, 20 aftermarket sales representatives and 21 new truck sales people compete for $288,530 in cash and prizes.
Those behind the annual event say they never could have guessed when they were setting up those bleachers in 2006 that the Rodeo would evolve into the bonanza it is today. But now that it has, they say their goal each year to make the next one even bigger and better.
Marcus Demel, director of operations, program development at Rush Enterprises and one of 17 associates on the company's Rodeo committee, says planning for each year's upcoming Tech Skills Rodeo begins almost immediately after the prior event concludes. Debriefing sessions are held a few weeks after each Rodeo to enable the Rush team to deconstruct the event, looking at how every new testing category was implemented and how existing activities were managed. Demel says one goal for each Rodeo is to challenge competitors while also creating an atmosphere and experience that generates engagement and motivates Rush Truck Center associates to want to qualify for the event again the following year.
He says expanding the total number of parts and service discipline competitions has proven useful in this area, with two Body Shop categories for collision technicians and the Rising Star program for Tier 1 and 2 technicians new to the Rush Truck Center family now bringing the number of individual contests at the 2018 Tech Skills Rodeo to 19.
Annual debriefing sessions are then followed in April with a planning meeting between the Rush Rodeo committee and the event's supplier partners. Demel says this meeting again addresses the strengths and weaknesses of the previous year's event and sets the goals for the upcoming December competition.
Demel says suppliers are integral during these discussions because of their leadership roles in each testing category. Though Rush organizes the overall Rodeo event, Demel says the company's suppliers (Peterbilt, Navistar, Isuzu, Cummins, Allison, Eaton, etc.) are responsible for developing the application exams and tests that technicians will complete on their products during the competition.
"Almost every time we have one of those meetings something new comes out of it," he says. "[The Rodeo] has continued thanks to the input from our suppliers."
Rush Truck Center technicians are eligible to take entrance exams for two Tech Skills Rodeo categories but can compete in only one category at the finals (technicians earning high marks on two exams are required to choose one category in which to compete in San Antonio). This year Demel says 1,748 Rush Truck Center technicians completed 2,569 entrance exams for the 2018 Tech Skills Rodeo, both company records.
The judging process is a little different in the sales department.
The aftermarket competition winner is determined by a written test completed by all finalists after a series of supplier presentations at the Tech Skills Rodeo, and the new truck sales competition (new this year) is a points-based program where associates are scored based on how they present information during a sales walkaround with a judge.
Will the Rodeo surpass 20 testing categories next year? Demel says he can't say today, but if any ideas come up between now and next December they will be seriously evaluated. The Rodeo might have expanded out of Nashville but it's definitely not done growing, he says.
"I'm sure we will continue to evolve this thing and get better at what we're doing," he says.