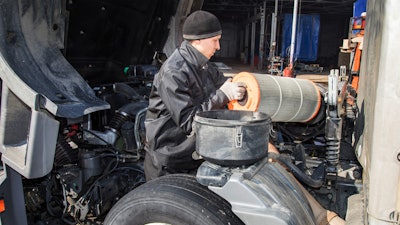 The inflationary times we are living in has become quite apparent to us all and has crept into our personal and professional lives — whether it's what we are now paying for a gallon of milk at the grocery store or paying twice as much for a truck part compared with what we paid a year ago.
Inflation is here, and not even top economists can pinpoint with great certainty when prices will begin to normalize. The result can be customers' uneasiness over repairs they might ordinarily have done to their trucks.
Some service providers have felt the pinch of truck owners cinching their belts and holding off on non-essential fixes. One such example is New England-based Advantage Truck Group.
"On the service side, what we're seeing is customers are choosing not to make certain repairs that aren't absolutely needed at that moment. If it's not a failure, they might not be so eager to replace it or if it's not a safety issue, they're more apt to wait until that part fails rather than proactively replace it," says Chris Pentedemos, vice president of network operations.
"In year's past, during a truck down situation, they'd say, 'Well, while my truck is in there now, I might as well fix it while I am already down.' The [adjustment] to that mindset seems to be changing pretty rapidly," Pentedemos says.
[RELATED: Fullbay webinar addresses inflation, technicians, parts]
However, other factors are having a reverse effect on customers' decision-making pertaining to repairs, such as the lack of new trucks as well as the lack of new equipment inflating the costs of late-model, low-mileage used heavy-duty trucks.
Businesses need their trucks running. If they can't get newer equipment, they have to take care of what they have or else they're left with what The Pete Store's Craig Kendall calls very expensive lawn decorations.
"We have seen more [customers come in for service] because a lot of people who would run new trucks or newer trucks — which tend to need less repairs — well, there are less of those trucks in the market, which is part of the reason these like-new and very low mileage trucks have been so expensive and are still much higher than normal," says Kendall, The Pete Store's manager for its Knoxville, Tenn., and North Georgia locations
"This forces people to repair trucks more than they normally would. We've seen in our body shop business in the last two year some trucks that in 2018 through early 2020 would have been totaled but are being repaired. We're seeing some people rebuild engines or make some pretty major repairs to trucks maybe they normally wouldn't; or do to the extent they are now because they can't get trucks," he says.
The shortage of new and used trucks being in much tighter than normal supply has pushed parts, service and body shop business up. "We are repairing trucks and trailers that might not be repaired to the levels we are because there aren't as many new trucks as the industry would like and you have to wait for parts," Kendall adds.
Chief Operating Officer Vanessa Ciervo wouldn't say H.K. Truck Center necessarily is doing more service work as customers are still keeping up with the preventative maintenance on their vehicles, but she thinks they are doing the minimum of what needs to be done to keep their trucks running until they can be traded in when their new trucks are delivered. "I don't think these people tend to keep them," she says.
The aforementioned business is helping to keep South Plainfield, N.J.-based H.K. Truck Center busy, along with other service, as the company is scheduling service appointments as much as two weeks out, and "we're coming off of probably our best first half ever. Even in this economy, our business is still thriving."
[RELATED: Used market maintaining optimism despite summer skid]
More motivation getting trucks into service bays is word on the street pertaining to Department of Transportation road checks, according to Edward Neeley, president, Truck Supply Co. of South Carolina.
"The DOT is just shutting them down from the standpoint of safety and they're being a little more strict on some things they might have let slide before and you thought were [previously] non-essential. The word around here is don't take a chance with the DOT," Neeley says.
In addition to the DOT work, customers continue to schedule PMs. "The economy is not affecting us one bit," he says.
Columbia Fleet Service Inc., based in Jessup, Md., is another company the economy doesn't seem to be affecting.
"Most of the stuff we see is by need [because of safety] and obviously safety is always a top priority for everybody. If you tell them it's a safety issue, nine times out of 10 they're going to fix it," says General Manager Pat Murray.
He says customers might pass on cosmetic repairs but even PM service hasn't been impacted. "A lot of the bigger fleet customers we have and do PMs for are on a regular schedule, whether it's every three months or the number of hours or miles it's driven; they are pretty religious about it," Murray adds.