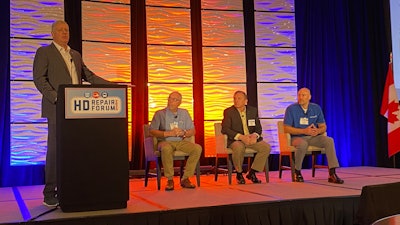 Few events on trucking's annual calendar have a clearer focus than the HD Repair Forum.
The HD Repair Forum returned to Fort Worth, Texas, last month after two years associated with the ATA's Technology & Maintenance Council (TMC), and the return to Texas was a welcome one for the program. Attendee totals approached all-time highs and the educational schedule was among the strongest in program history.
Designed to offer business guidance and technical support for the medium- and heavy-duty body shop and collision repair industry, the HD Repair Forum is a great opportunity for service operations to learn how to improve shop throughput, technician performance, operational effectiveness and keep up on new products and technologies that will enter the industry in the years ahead.
As a media partner of the event, Trucks, Parts, Service was on hand. Below are some of the highlights of the event compiled by the TPS team.
One great session from this year's event focused on the service and maintenance of advanced driver assistance systems (ADAS). Bendix's Joe Lauritzen led the discussion and detailed how — because of their advanced technical complexity — ADAS components and sensors must be handled very carefully during all service events. Lauritzen noted how something as simple as reattaching a sensor at an incorrect angle, can reduce a system's performance and increase the risk of an accident of road event. Lauritzen said the good thing for shops in this area is the wealth of technical information available from ADAS manufacturers, as well as technical support lines technicians can call to ensure a repair is completed properly every time.
Workplace culture was addressed too. AzkoNobel's Jeff Rhoads gave a wonderful presentation on how a service shop's internal machinations can impact employee morale and performance. Rhoads said a "toxic workplace" and poor business culture is the number one reason employees leave a business. In an industry like heavy-duty collision, where the employment shortage is so severe, Rhoads said shops need to do everything they can to avoid becoming a bad place to work. He also offered guidance for how that can be done, from ways to increase employee engagement, tips for connecting with workers on a personal level and the importance of leaders sharing their corporate vision with their associates.
On the second day of the conference, Bendix's Jim Barber followed on his colleague Lauritzen's presentation by sharing how service shops must adapt their capabilities to perform work on newer equipment. Barber touched on how truck technology will become more advanced "in the next five years than the last 20," and said independent shops can't turn away challenging work and expect to sustain long term. Barber said the good news is OE suppliers want the independent service channel to survive and are actively producing diagnostic equipment, tech training and more to help shops stay up to date on the newest equipment on the roads. "If you're a facility that only completes mechanical repairs, you're going to be a dinosaur," he said.
Possibly the best attended session of the event was a panel discussion with three insurance experts, touching on how service shops should take and submit photos during insurance claims process. The session was valuable because the panelists shared some of the key mistakes technicians and service shops make when photographing damage, and how those mistakes can create delays and friction in the claims process. One of the biggest points the panelists stressed was that submitted photos should support the estimate a shop submits. The insurers said claims without photos can create hostility in the claims process that can be avoided if everything that is damaged is visible in the pictures.
To learn more about the HD Repair Forum, please CLICK HERE.