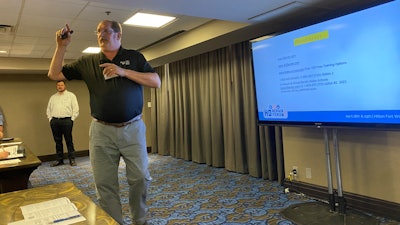 With new technology comes the need for new training. Tuesday during a breakout session at the HD Repair Forum, Bendix's Joe Lauritzen provided attendees a technical overview of advanced driver assistance systems (ADAS) gaining adoption in the commercial vehicle sector to aid their technicians when inspecting, maintaining and servicing these new devices in the field.
Lauritzen's presentation began with a tour of ADAS technologies, noting where ADAS sensors can be found on new trucks and trailers and maintenance guidance for technicians who are forced to deal with the technology during repairs. From there, Lauritzen dove into the complexity and interconnectivity of ADAS devices. He says Bendix's technologies are designed to function under very specific circumstances and must be serviced with that intricacy in mind. He says Bendix advises customers to always replace sensors like for like because OE genuine sensor technology is developed to function in tandem. Aftermarket systems lack that collaborative design.
[RELATED: Improving your customer's parts purchase experience]
Lauritzen also stressed the importance of precision during service events — particularly when it comes to sensor installation. He says a part placed in the wrong position, or even angled incorrectly in the right position, is "going to get error codes," which can compromise data acquisition and increase the risk of an accident. Lauritzen says Bendix has a technical library with detailed installation instructions for its ADAS technologies to ensure technicians avoid an installation mistake.
On that note, Lauritzen also notes the importance of using every component that comes in a new product box. Seems evident, yes, but Lauritzen says he's had several conversations with customers over the years who encountered fault codes that were ultimately sourced back to an installation omission. It's an understandable mistake. Many veteran technicians are conditioned to not replace components that do not appear broken or damaged. But with ADAS sensors and devices, Lauritzen says all related parts should be replaced at the same time.
Finally, Lauritzen advised the attendees to not feel they have to maintain these complicated technologies alone. He says beyond Bendix's installation instructions, the company also has an online library of technical bulletins and tutorials, video courses and a 24-hour call center to guide technicians through ADAS maintenance.