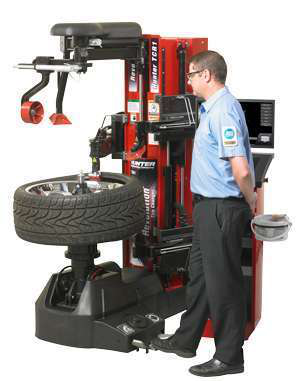 Hunter Engineering Company has released its new Revolution fully automatic tire changer.
The Revolution uses the same fully automatic process for all tire and wheel combinations, saving time on today's diverse assemblies, the company says. The fully automatic process also eliminates the need for a skilled operator and reduces the experience gap of tire-changing teams by turning all technicians into experts. Hunter says Revolution's touchscreen interface indicates the operator's current step and monitors progress throughout the procedure. The touchscreen also stores 15 helpful on-board videos.
The fully automatic process places the operator away from the machine, increasing technician safety and eliminating pinch points. The Revolution also increases tire and wheel safety as all rim contact or near rim contact is plastic, and Hunter says the Revolution constantly monitors TPMS location and will not allow the tire to be mounted or demounted in an unsafe position.
According to Hunter, the Revolution also features powered press arms for use when necessary for maximum control. Powered press arms adjust automatically when the diameter is set and power clockwise to prevent tire slippage. Damage free bead loosening rollers loosen even the most stuck on soft sidewall tires, the company says.
The Revolution also is the first electric tire changer listed to UL201 Garage Equipment Standard, meeting national electrical code requirements for electrically powered shop equipment.