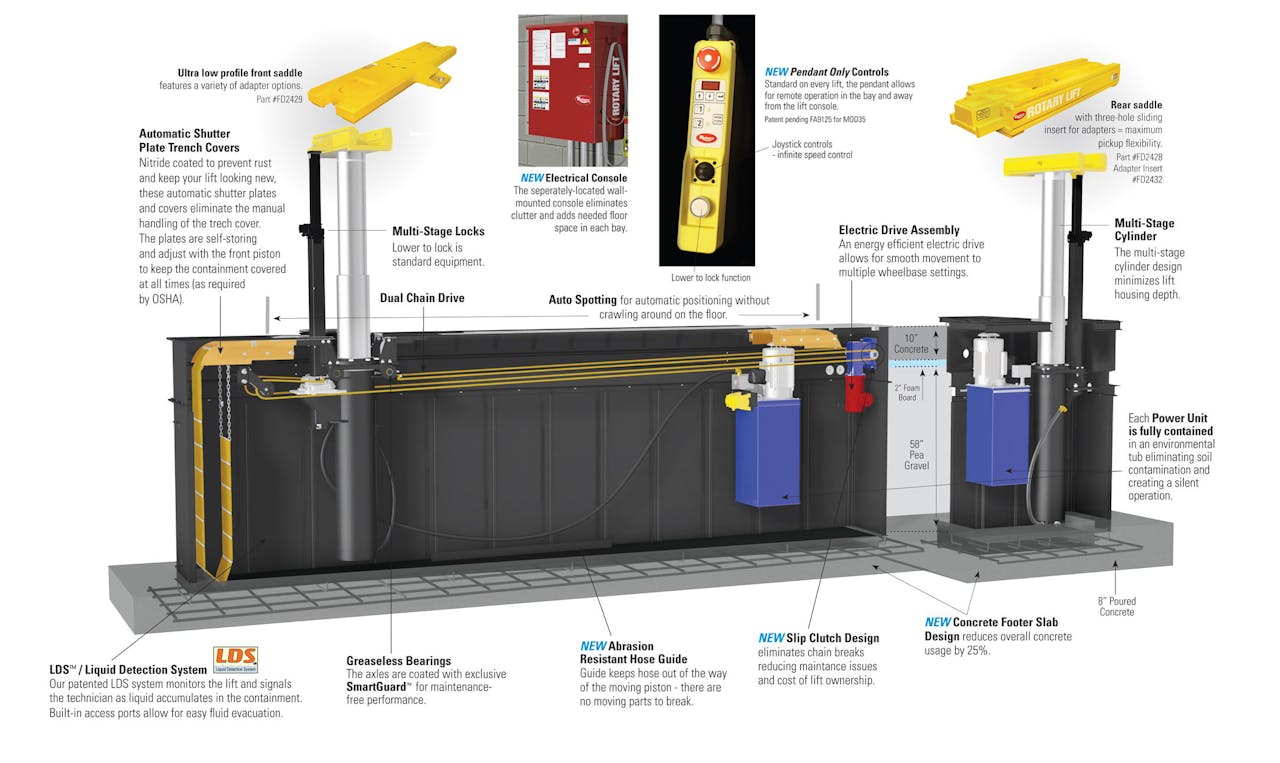 Rotary Lift introduces the next generation of its heavy-duty in ground lift: the MOD35 Series.
The MOD35 builds on the success of Rotary Lift's popular MOD30 inground lift, the company says, offering best-in-class lifting capacity and clear bay space, patent-pending pendant controls and lower installation costs.
More than 1,100 MOD30 lifts have been installed since the product's introduction in 2002, the company says.
"Rotary Lift invented the modular in-ground lift, and now we've made it even better," says Kirk Dawson, vice president, heavy duty, for Rotary Lift parent company Vehicle Service Group (VSG). "Through our continuous improvement efforts, the MOD35 includes all the features customers love about MOD30, plus enhancements they have requested. The result is a lift that is incredibly durable, cost-effective, user-friendly, and fast to set up for servicing any heavy-duty vehicle, from work trucks to articulated buses and everything in between."
The modular design of the MOD35 in-ground lift enables it to be customized for any application and location. It is available with two or three multi-stage hydraulic cylinders to provide lifting capacity of 70,000 to 105,000 lbs.,the company says.
The MOD35 is totally contained in a 6 ft. deep steel enclosure that has been sealed inside and out with Rotary Lift's EnviroGuard coating. Rotary Lift says the enclosure is warranted against corrosion and electrolysis for 10 years. This containment forms a barrier between the lift components and the ground to trap oil and shop fluids while at the same time locking out groundwater. The MOD35 containment unit also allows for easy access to all lift components and reduces installation costs, the company says.
The MOD35 is compatible with Rotary Lift's patented universal saddle that is optimized for most vehicles in municipal, school bus, heavy-duty truck or transit/low-profile applications, the company says. The widest range of standard adapters and optional saddles are also available to meet any heavy-duty vehicle lifting need.