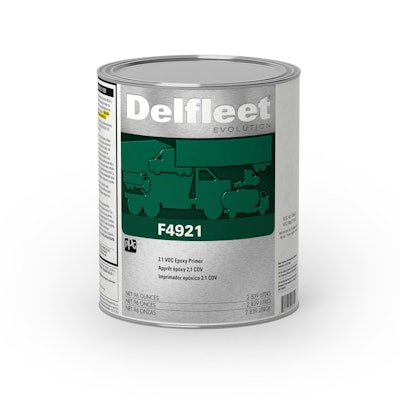 PPG Commercial Coatings has added F4921WH–2.1 White Epoxy Primer and F4921BK–2.1 Black Epoxy Primer to its Delfleet Evolution premium commercial paint system.
Similar to the F4921 Gray Epoxy Primer PPG introduced in June 2015, PPG says F4921WH and F4921BK are compatible with Delfleet Evolution basecoats and single-stage topcoats. The new primers are exceptionally versatile and can be matched with an array of substrates including aluminum, cold rolled steel, stainless steel, galvanized steel, galvaneal, fiber glass and cured surfaces, the company says.
"Adding these two primers to the Delfleet Evolution brand makes our product lineup even more flexible," says J.J. Wirth, PPG brand manager, fleet segments. "These are multipurpose high-quality primers with fast-drying characteristics that will help speed cycle times and productivity in shops of all sizes. Our original F4921 gray has proven itself quite well; by expanding our selections with these low VOC primers in black and white, we're giving PPG customers more choices to address their requirements."
PPG says F4921WH and F4921BK offer numerous practical qualities that make them a smart choice for OEM manufacturers as well as repair shops. The new primers display superior adhesion and corrosion resistance and can be applied over bare metal as a protective layer or as a sealer over existing finishes.
They are also fast-drying and can be topcoated as primer sealers in as little as 30 minutes, making them well suited for value-conscious collision centers. The primer is applied in a 3:1:1 mix ratio and lays down smoothly because of its thin film quality, PPG says.
As low VOC epoxy primers, F4921WH and F4921BK are compliant for all parts of the U.S. and Canada.