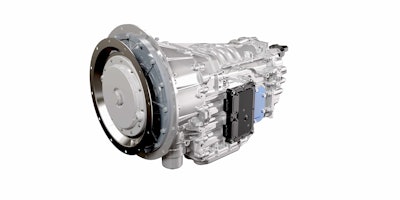 Eaton has announced an extension to its fluid lubrication service maintenance interval for its Procision line of medium-duty dual clutch transmissions for school bus applications that the company says will lower or even eliminate fluid changes.
The new interval is now 10 years/150,000 miles, a change from 3 years/150,000 miles that was announced when Procision was launched. Eaton says the new preventive maintenance interval extension is enabled by the unique synthetic fluid used in Procision, the highly capable lifetime sump filter, and relatively low heat generation associated with dual clutch technology.
"This change makes it possible that a school bus fleet may never have to service a Procision transmission depending on their duty cycles," says Jeff Walker, director, Commercial Powertrain, Eaton's Vehicle Group. "With the average cost of a transmission fluid and filter change of $250, this new extended interval change can save a fleet $583 versus competitive offerings."
Launched in North America in 2015, Procision is the first medium-duty transmission for Class 6-7 trucks to incorporate dual clutch technology, the company says. Eaton employed the dual clutch technology to allow for more efficient acceleration from a stopped position, and to optimize shift points that will efficiently get to the highest gear. When combined with electronic shifting that uses grade, vehicle weight and throttle inputs, Eaton says the 7-speed transmission lineup delivers 8 to 10 percent better fuel economy than a similarly equipped vehicle with a torque converter automatic.
The synthetic transmission fluid used in Procision also provides component protection while reducing maintenance costs thanks to 150,000 mile lube and filter change intervals. The internal sump filter and electrical system do not require maintenance, the company says.
"With the fuel efficiency and low maintenance costs, Procision transmissions promise to deliver the lowest total cost of ownership for any medium-duty transmission in the school bus market today," adds Walker. "This is a world-class transmission that helps deliver safe, confident and easy operation for any school bus driver by delivering optimal performance in many driving environments."
The Procision design life (B-10) is 10 years/400,000 miles. Eaton Procision transmissions for school bus applications have a five-year/unlimited mile warranty.