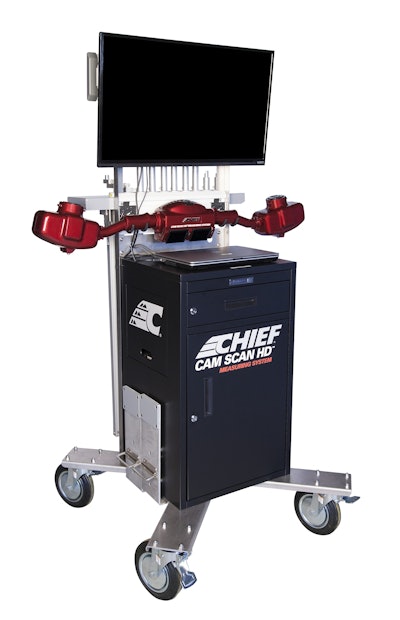 Chief introduces Cam Scam HD, the first computerized measuring system in North America designed to identify and document all collision damage on heavy-duty vehicles, including trucks and buses.
"Our new Cam Scan HD computerized measuring system provides the precise, accurate measurements technicians need to eliminate any guesswork when analyzing frame damage on heavy-duty vehicles," says Lee Daugherty, heavy-duty sales manager for Chief. "With all the engineering advancements being made in the vehicle design and manufacturing process, shops need the precision of our computerized measuring system to properly repair collision-damaged vehicles. Cam Scan HD is also faster than other measuring methods and provides documentation of damage and completed repairs."
According to Chief, the Cam Scan HD computerized measuring system lets technicians easily measure and compare two points anywhere on a vehicle using PanoVision Technology, a patented process for making precise measurements from stereophotogrammic images. It can measure the condition of a frame in the X, Y and Z axes to detect diamond, mash, sway and twist. The Chief Cam Scan HD system also can be used for frame rail analysis, axle and trailer alignment analysis, and even to measure areas that the centerline gauge and string method can't, such as upper body damage and cab openings. Because it is faster and more accurate than traditional measuring methods, it is more profitable for shops, with the added benefit of providing documentation of each measurement, the company says.
And Chief says the Cam Scan also provides service providers benefits when dealing with insurance companies, which are more and more requiring documentation demonstrating that the repairs were made prior to initiating payment.
"Printed, verifiable repair documents are an important part of today's shop function that will only grow more critical in the future," says Lee Daugherty, heavy-duty sales manager for Chief. "Heavy-duty shops need to transition to the accuracy of a computerized measuring system to improve repair accuracy, save time and money, and satisfy the insurance industry's growing requests for documentation."
The Chief Cam Scan HD measuring system includes a laptop computer loaded with PanoVision software, wireless mouse, 32-in. monitor, and color document printer, all housed in a durable, portable locking cabinet. The cabinet also houses the lightweight portable camera measuring assembly that is equipped with a visual display and two cameras on each end. The lightweight camera is easy to use both inside the shop and off-site, if needed. The system comes with 12 calibration boards and measuring attachments, as well as a halogen lighting system, Chief says.