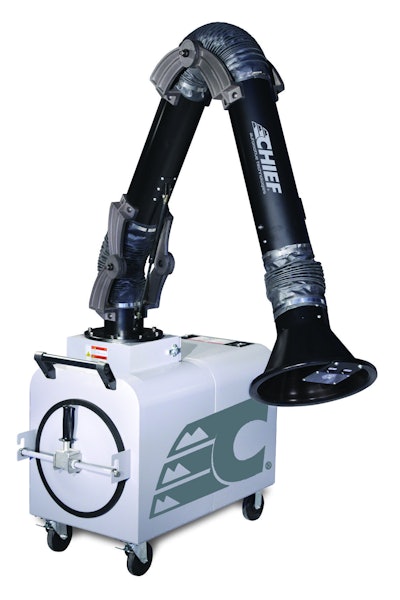 Chief introduces its new welding fume extractor, which the company says helps lower a technician's risk of breathing harmful airborne particulates by capturing weld fumes before they can reach the technician's breathing zone.
"OEM programs have made welding fume extractors optional, but we see them as an integral part of collision repair shop safety management," says Bob Holland, director of collision in North and South America for Chief parent company Vehicle Service Group (VSG). "By equipping a shop with a Chief fume extractor, facility operators can not only protect their workers, they can also help reduce injury downtime, improve productivity and protect the shop against litigation and worker's compensation claims."
Chief says its fume extractor uses an electric fan to draw weld fumes through a flanged bellmouth hood that focuses extraction power at the fume source, resulting in greater fume capture than competitive designs. Fumes are drawn into a large ProTura Nanofiber cartridge filter with a MERV 15 efficiency rating. These nanofibers—fibers 1,000 times smaller than the diameter of a human hair—are not used in competitive HEPA filters. They allow air to pass through the filter despite surface dust buildup to help improve extraction air flow efficiency, provide longer filter life, and reduce energy consumption, the company says.
Chief adds that this technology is much safer than other ventilation means, such as vacuum systems, exhausting fumes outdoors and the use of fans and open doors, which often simply send the toxic fumes somewhere else instead of capturing them.
The Chief fume extractor's arm is manufactured of powder-coated aluminum with cast aluminum joints. This heavy-duty construction helps prevent wear and breakage in even the most demanding shop settings. The seven-foot arm holds a bell-shaped extraction hood with an integrated 360-degree handle for easy maneuvering, and an ember catcher prevents hot particles from reaching the filter, the company says.