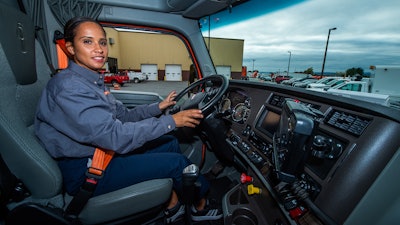 East Penn Manufacturing Co.
A truck's powertrain as well as other components could be in tip-top working order. But choosing the wrong battery configuration for a Class 8 truck based on use case and outside temperature can zap a truck's power, leading to repair and costly time off the road.
"Today's trucks are more advanced than ever before. More technology projects have been added to trucks in the past decade than the previous five decades added together. With all this technology, the energy storage on the truck is more important today than ever," says Jeremy Cordray, director of technical sales, transportation markets, EnerSys. 
Cordray adds the evolution of Class 8 truck batteries "has truly been revolutionary" as technologies like thin plate pure lead (TPPL) have become predominant throughout the industry because of the growing needs of today's trucks.
[RELATED: How to: Check for wheel-end seal leaks]
"The electrical content on today's trucks is significant due to offering increased safety measures, having more infotainment for operators and fleets having more asset management in terms of vehicle connectivity," says Jeff Muir, director of original equipment commercial sales, East Penn Manufacturing Co. "All these new features are making the industry safer; however, they require additional energy and add parasitic draws."
Doing it right
Whether it's delivery trucks that make frequent stops to long haul trucks, the application of a truck should drive the kind of battery used in a truck. The weather in the regions a truck travels also is an important factor in battery choice.
"Many times battery problems are blamed on the battery rather than understanding that battery problems arise when the application does not line up with the chosen battery," Cordray says.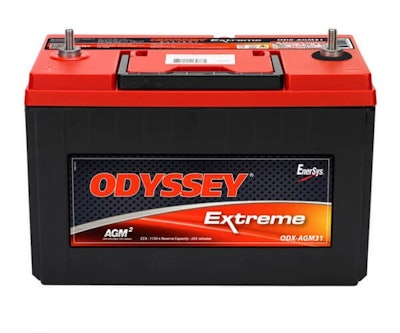 John Miller, senior director, product engineering, Stryten Manufacturing, agrees duty cycles impact battery life.
Miller says the trucks that are primarily on delivery routes with limited stops, little highway driving and generally return to a home base every day have the least demanding usage profile and a standard battery will work well.
"For longer-haul applications where a sleeper cab is in use and no-idle laws are in place, batteries are not only used for engine start but also to support the comforts of the sleeper cab. In this case, batteries can see significant mid- or deep cycling. In sleeper cab applications, the user should consider a battery that can withstand a high level of cycling to ensure an engine will start the next day. Appropriate batteries for this are generally identified as high cycling or extreme cycling types. Absorbed glass mat (AGM) batteries are a good solution to withstand deep cycling," he says.
Cordray adds that over the past decade, the Class 8 truck market has been leaning toward abuse-resistant technologies like TPPL that provides great flexibility and longevity in many different applications.
East Penn Manufacturing offers three main categories of Group 31 batteries: Starting batteries, which are designed to start the truck and offer minimal cycling; dual purpose batteries, designed for starting and cycling application (hoteling, for example); and AGM batteries, which offer best-in-class starting and cycling performance, Muir says.
"If the right battery is selected, the end user may experience upwards of four-plus years of service life. Adversely, if the incorrect battery is used for the application, replacement normally occurs within the first 12 months of service," he says.
[RELATED: Troubleshooting turbochargers]
Other factors in battery selection are temperature of the regions the truck travels as well as maintaining OEM recommendations.
"The big key factor here is the climate in the region. A lot of the folks think the higher the CCA — cold cranking amps at zero degrees — the better it is to have in their truck. It's true when you're looking at cold climates. But we don't need 1,000 CCA batteries if all your trucking is done in the southern states," says Jeff Barron, lab manager/engineering and technical services, Interstate Batteries.
Barron also points out the importance of meeting the CCA rating from the OEM. Whether it's Cummins, Detroit, or other engine makers, the batteries should meet the CCA value for that particular engine.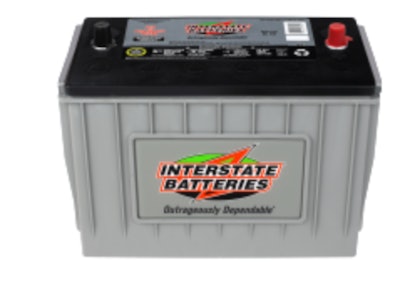 "Some of the positive attributes of a battery, such as engine cranking ability, will improve with increasing temperatures. However, increasing temperatures also increase some negative attributes, such corrosive reactions inside the battery, which will reduce battery life," Miller says.
Barron adds, "When you have resistance within the battery — and every battery has resistance — you are going to have heat created, especially when you're in these high-temperature regions."
Consequences of using the wrong batteries
Enersys says many battery options are available for trucks' energy storage and these varied technologies provide matches for specific applications, but when not matched correctly, the truck's performance can suffer.
"For instance, different technologies of batteries have different internal resistance and since energy takes the path of least resistance, if flooded and TPPL AGM batteries are put together in the same truck, the lower resistance TPPL AGM batteries will work harder than the flooded batteries," Cordray says.
Muir says incorrect battery selection will result in down time, jump starts and unsatisfied operators.
"Fleets also should be sure their battery selection works with their off-truck chargers. These potential heartburns impact the bottom line and customer credibility. Many times, the wrong batteries are chosen for minimal upfront savings, but it pays to consider the total overall cost of ownership and risk mitigation for the fleet or even the individual owner," he says.
Miller says multiple failure points can occur if using the wrong batteries for the wrong use case.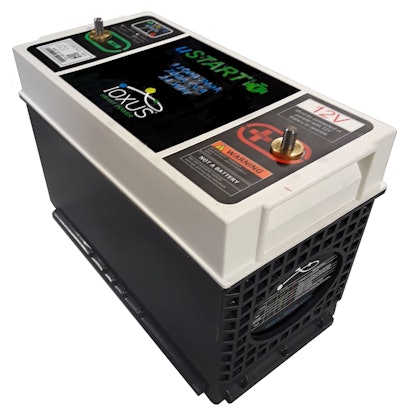 For example, choosing a battery that is too low in CCA can cause premature engine no start. A battery too low in capacity might result in the battery failing to provide needed load support for cab loads, resulting in the inability to use some electrical functions, particularly when the truck is idle or just running on the batteries. Selecting a standard battery for a use case that requires mid- to deep-cycle capability can cause premature loss of load support, potential engine start issues and short battery life, he says.
Barron adds a final tip: "We don't want to mix an old battery with a new one because they equalize to the lowest capacity, which will drop down the new battery to the older battery."
Class is in session
To assist dealers with explaining the different batteries and which are the best for each customer, suppliers train dealers as well as provide learning materials.
Stryten stresses the importance of dealers and customers understanding the customers' use case for the truck and to start out by asking three questions: What is the OEM's recommendation for CCA power? Are you dependent upon the battery bank to support sleeper loads? Are you in a usage pattern that spends substantial time at idle with low engine RPM?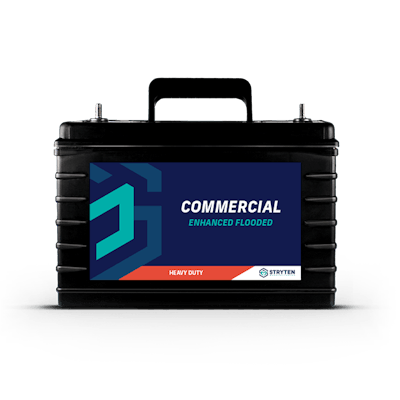 East Penn has a vast network of sales and service professionals who perform onsite training and assessment.
"We are proficient in all types of popular commercial truck battery technology and can give the best overall assessment to match the individual needs of each operation," Muir says. "We also have dedicated a space on our Fahrenheit website for people to ask commercial truck battery-related questions at any time, helping to further educate and aid in this important decision-making process."
EnerSys says it is focused on empowering the truck industry to make the right battery choice for specific applications.
"First, we ensure we work with truck manufacturers to understand the true needs of each truck and then develop proper energy storage technical specifications," Cordray says. "Once we have mutually developed these choices with the manufacturers, our team of technical experts work alongside dealers, distributors and service providers through many channels to educate on the technical aspects of solutions along with best practices that will allow maximum return on investment."
Barron says it comes down to knowing what you have, what you need as far as CAA and OE specifications and what's your regular maintenance schedules — which should include the batteries.
"Don't shortchange the batteries because that's what gets you started and going," he says.
"It's also important to understand the potential cost of the battery decision," Miller says. "What may be cheap upfront may end up costing more, either with multiple battery replacements or through roadside jump starts and delivery penalty costs."